Sepp Blatter

The U.S. investigation into world football governing body FIFA is beginning to look more and more like an operation against an organized criminal gang. Each henchman that falls is like a domino, knocking over others in a chain to the presumed Mr Big. It's a technique mastered by U.S. prosecutors targeting mafia rackets and drug cartels, and recognizable to experts observing the case. "Reading the indictment as a former prosecutor, it's clear that they're looking at an upper level of the organization," said John Lauro, who worked in the same New York district that filed the FIFA arrest warrants.
"I think the overall goal of the investigation is to indict the highest level of the association, that's the ultimate goal."
The highest level of FIFA, throughout the period covered by the investigations, was the body's Swiss president Sepp Blatter.
He strenuously denies all wrongdoing, but the turn taken by the U.S. investigation suggests that more arrests are in the pipeline.
Loretta Lynch, who began the investigation before she was named U.S. Attorney General, said as much as she unveiled the first indictments.
The inquiry was just beginning, she said, and FIFA is being targeted under the RICO act as a "Racketeer Influenced Corrupt Organization." When the initially defiant Blatter announced his surprise resignation on Tuesday, many assumed that he was under investigation. Those targeted in last week's indictments were not the first FIFA executives served. Several of their alleged co-conspirators have pleaded guilty and agreed to becoming cooperative witnesses.
Now prosecutors will try to get the newly detained suspects to turn on others. "I suspect the dominos are going to fall quickly," said Andy Spaulding, a law professor at the University of Richmond in Virginia and a specialist in international corruption. Lauro agreed, saying the indictments suggest the Feds have a very detailed understanding of FIFA's internal practices. Lawyer David Weinstein compared the case to former attorney general Robert Kennedy's attack on organized crime in the 1960s. "There's no rush but they have momentum now," he said, describing the U.S. indictments as the first dominos that led to the Swiss arrests. "The pressure is certainly on others to cooperate and to provide evidence that will either exonerate them or assist them in reducing them their exposure."
Weinstein said former FIFA vice-president Jack Warner's two sons - now cooperating witnesses - led the investigation to Chuck Blazer.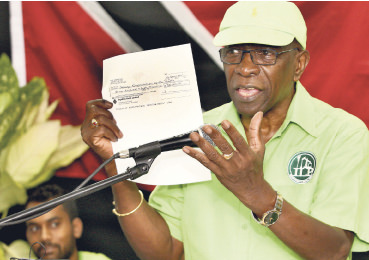 Former FIFA vice president Jack Warner holds a copy of a check while he speaks at a political rally in Marabella, Trinidad and Tobago. Warner made a televised address, saying he will prove a link between FIFA and his nation's elections in 2010.
Former FIFA vice president Warner has said in a TV address that he will reveal all he knows about corruption in the world football body. Warner, who said he feared for his life, also said he could link FIFA officials to general elections in his native Trinidad and Tobago in 2010.He is one of the 14 people charged by the U.S. over corruption at FIFA.
Another top FIFA official and key witness, Chuck Blazer, had admitted accepting bribes. Blazer, the former larger-than-life leader of the North American football body CONCACAF, now a sickly old man, agreed to wear a wire. Now, prosecutors appear to be focused on a $10 million payment South Africa made to a body controlled by Warner before the country was awarded the rights to hold the 2010 World Cup.
The transfer was allegedly overseen by Blatter's right-hand man, Jerome Valke, who also insists he has nothing to answer for. South African authorities have opened a "preliminary" investigation into World Cup bribery allegations, and an opposition lawmaker said Thursday he had information suggesting "high-level" involvement. Anton Alberts of the Freedom Front Plus said the information his party received claimed a previous investigation into "irregular" payments around the World Cup bid was stopped by "high-level interference."There has been nothing in his public statements to suggest it, but perhaps one day Blatter himself may agree to testify. "If he cooperates it's all going to come down, all the dominos will fall," said Spalding.