Antalyaspor made quick work of Medipol Basaksehir defeating the side 3-2 in an away match to kick start their 2015-2016 Turkish Super League campaign. Antalyaspor's Cameroonian superstar forward Samuel Eto'o scored two goals to begin his new campaign in dramatic fashion.
Antalyaspor had finalized the transfer, bringing Eto'o to Turkey last month. The Cameroonian star and Antalyaspor's President Gültekin Gencer were met by hundreds of enthusiastic fans at Antalya International Airport. The fans cheered and shouted as Eto'o, accompanied by Gencer and other managers of the club made their way to a private plane and headed for Antalya.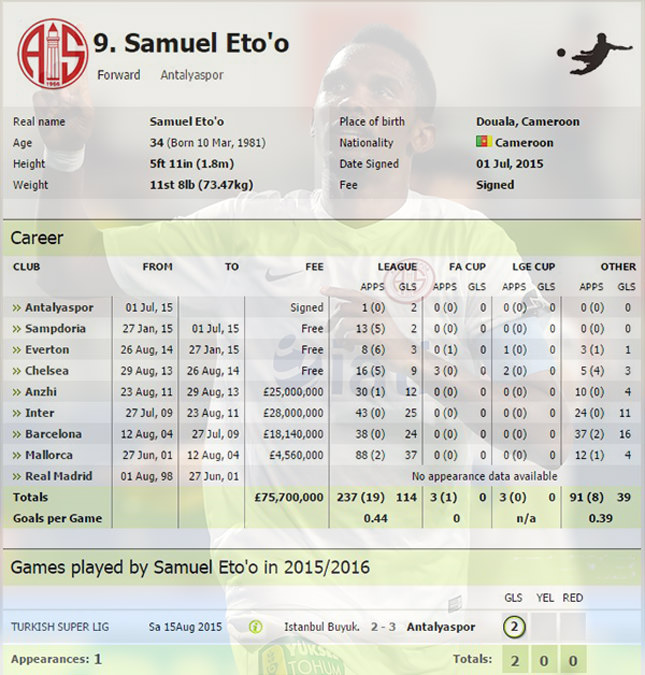 Thousands of Antalyaspor fans waited for their star player at the airport, greeting him in spectacular fashion. While the fans showed their love to Eto'o by cheering and firing torches, the Antalyaspor scarf around the neck of Eto'o stood out.
"It is not an ordinary transfer; it is the transfer of Samuel Eto'o," said Gencer.
The Antalyaspor president informed that they personally flew to Italy to seal the deal of Eto'o's transfer and continued, "As the planes were under overhaul due to Ramadan, we had a hard time finding a private plane. We asked the help of the Minster of Foreign Affairs Mevlüt Çavuşoğlu, who is also from Antalya, and he helped us to rent a plane. There are people who are jealous of Antalyaspor so they made statements that Antalyaspor went to get Eto'o with a state's plane. They wanted to defame our team."
Gencer said that Eto'o agreed with the deal without thinking as he once visited the city and loved it. "He got information about the city from his friends and said 'yes' right away. He came to the airport with his wife," Gencer said, adding that they are planning to hold a signing ceremony with the football player today.
Eto'o has been well-travelled in recent years. Turkey will be the latest stop in Eto'o eclectic career which has seen him perform for the likes of Barcelona, Inter Milan and Chelsea.
He also played between 2011-2013 for Russian side Anzhi Makhachkala in the Caucasus region of Dagestan before the owner pulled the plug on its ambitions.