Belgium have kept the No. 1 spot in the FIFA rankings among an unchanged top 18 for February. With the leading nations not having played international football in 2016, the standings remained largely unchanged, the most notable difference being Turkey entering the top 20 at the expense of Ivory Coast.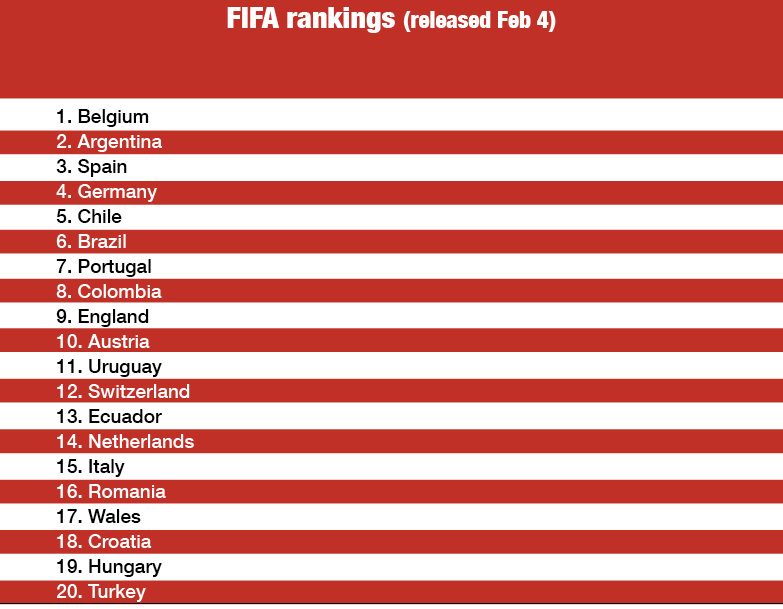 Belgium are followed by second-place Argentina and third-place Spain. World Cup winners Germany are No. 4, followed by Chile and Brazil in a top 10 dominated by European and South American teams. The three teams that made the biggest moves since the last rankings all come from Asia: Palestine at No. 110 (up 21 spots), Saudi Arabia at No. 55 (up 20 spots), and North Korea at No. 95 (up 18 spots).
The Turkish sports world witnessed remarkable success stories in 2015. The most striking success of the year undoubtedly belongs to the Turkish national football team. According to FIFA's World Ranking, Turkey were chosen as the Best Mover of the Year thanks to the 329 points they collected over the last 12 months of football. Having last competed in a major tournament back in 2008, Turkey secured a place at the EURO 2016 in a campaign that saw them defeat the Netherlands, Czech Republic and Iceland during the crucial final stages. The win over Iceland on Oct. 13 sealed Turkey's automatic qualification for UEFA EURO 2016 as the best third-placed side, bringing joy to a nation reeling from almost a decade of hurt in international football.