The Yellow Canaries were just one match away from the quarter-finals of the UEFA Europa League as they took on Braga in Portugal Thursday in the round of 16, but the team suffered a 4-1 defeat as the referee of the match, Ivan Bebek, has come under harsh criticism for his 'biased' decisions.
Turkish supporters and fans from all around the world took to social media and called the UEFA to analyze the controversial match and Bebek's decisions.
The match saw a harsh penalty decision, 8 yellow and 3 red cards against the Turkish team.
The referee's dubious decisions started with a yellow card he showed to Fenerbahçe midfielder Mehmet Topal in the 9th minute when was clearly fouled by Braga's Vukcevic, but the referee decided that it was in fact simulation by Topal.





Bebek drew more criticizm in the 11th minute, when a questionable goal from Egyptian striker Ahmed Hassan upped the heat of the match as Fenerbahçe said the goal was supposed to be considered as an offside.
The controversial clash was only worsened when in the 44th minute Bebek, who will more than likely go unpunished by UEFA for his terrible performance, sent the manager of Fener, Vitor Pereira, to the stands just prior to half-time for continuously arguing with the referee. However, critics agree that Pereira's hot-headed approach did not help the rest of the match.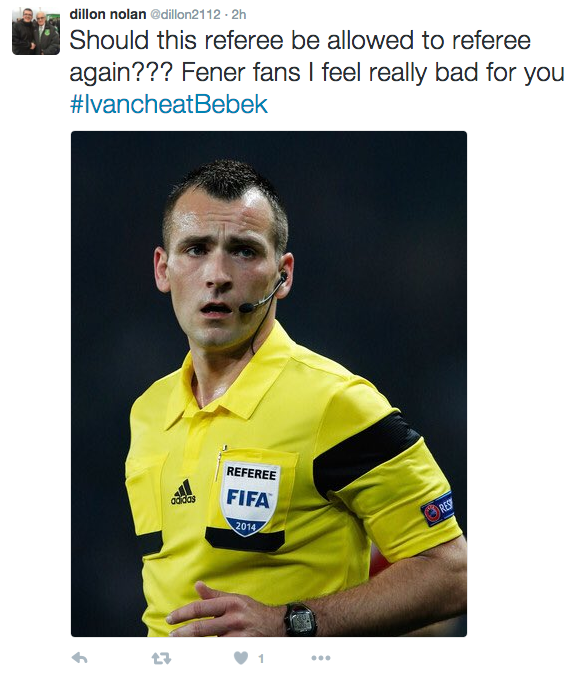 In the 66th minute, another dreadful decision by Bebek angered Turkish supporters everywhere as he called for a penalty after Braga player Josué Pesqueira powered a shoot straight into Turkish midfielder Mehmet Topal, who had his hands close to his chest, in a perfectly natural position. Bebek deemed that it was indeed an intentional handball and awarded a penalty-kick to Braga and brandished Topal with a second yellow card.

After a long delay following the truly questionable refereeing decision, Josue netted the 66th-minute penalty, making Braga 2-1 against 10-man Fenerbahçe.
After the penalty, it all went down for Fenerbahçe as Braga players Stojiljkovic and Silva scored two goals, making the score 4-1 and placing their team in the quarter-finals with a 4-2 aggregate win.



Many football lovers and critics have called the game 'rigged' and have urged the UEFA to do something about the 'horrible' referee.
Mehmet Topal's late goal secured a 1-0 win for Fenerbahçe in the sides' first UEFA meeting. It was Braga's first defeat in four trips to Turkey.