With no new stadium being opened between the early 1980s and 2002, Turkey had a lot of catching up to do in terms of sports infrastructure. The Super League is growing and is already among the most attended league's in Europe and beyond. Now the stadiums are finally following suit.
Housing Development Administration of Turkey (TOKİ) President Ergün Turan said that they will open 18 new stadiums with a total capacity of 509,000 across the country within three years, along with those that were already inaugurated. Yılmaz said, "Türk Telekom Arena, Mersin Arena, Antalya Stadium and Afyon Sports Complex have been put into service.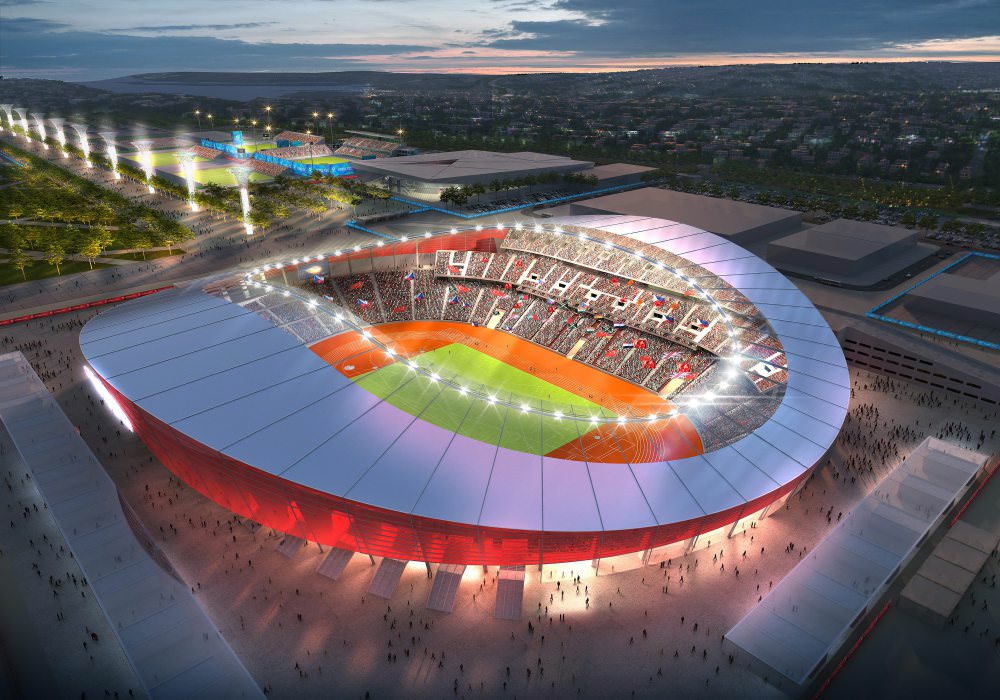 Mersin Arena
"There is not such a building capacity anywhere in the world other than Turkey. It is a very important thing to build a 40,000-capacity stadium in any country. We are now building 15 stadiums across Turkey. Our projects include a lot of specialties that many European stadiums haven't got. With these stadiums, more investment than those made in Turkey's Republican history will have been made in just three of four years. These investments will serve a purpose over the next 50 years.
"All of the 15 stadiums are being built in accordance with UEFA criteria. The latest technology is used in these stadiums. Turkey will be able to host European or World Cup-level tournaments thanks to these new, high-tech stadiums. For example, Trabzonspor's new Akyazı Stadium will be a first with its brand-new roof system. It is being built with an environmentally friendly roof system, named 'Smart Roof,' which can clean itself and remove air pollution. The 22,000 square meters of roof for the stadium will be able to clean the air of an area of 230,000 square meters. Thanks to its half-transparency, the pitch will be brighter during matches."
Turan stressed that Turkey's first ecological stadium, the Sivas City Stadium will serve at least 40-50 years of compliance with UEFA standards with a 25,000-seat capacity. He said, "The Sivas Stadium will generate its own energy needs. It will also be able to store rain water."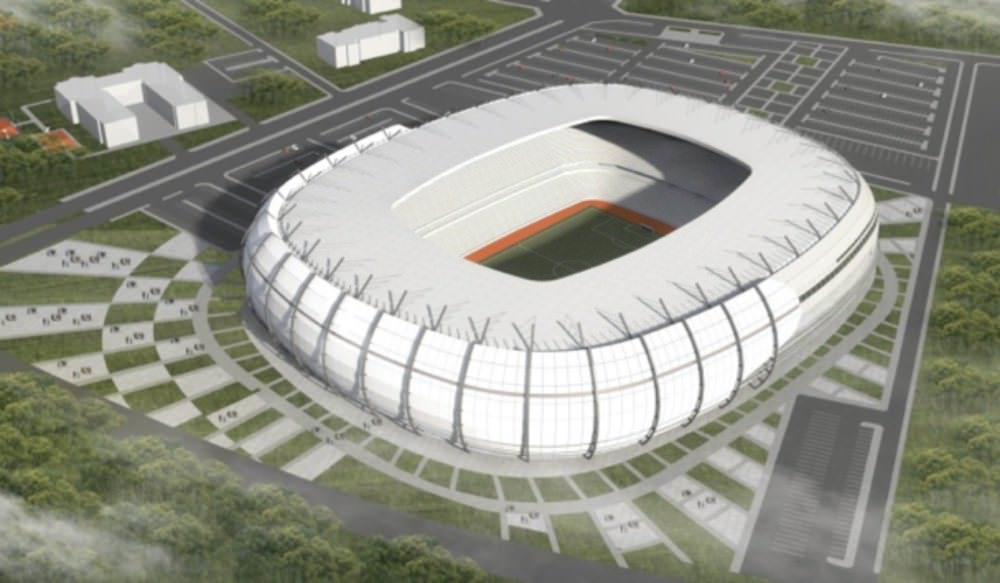 Sivas City Stadium
On Diyarbakır's new stadium that is being built, Turan said, "The new Diyarbakır Stadium will be fourth in terms of capacity. We called for the tender last year. Due to the displacement, construction started after a one-year delay."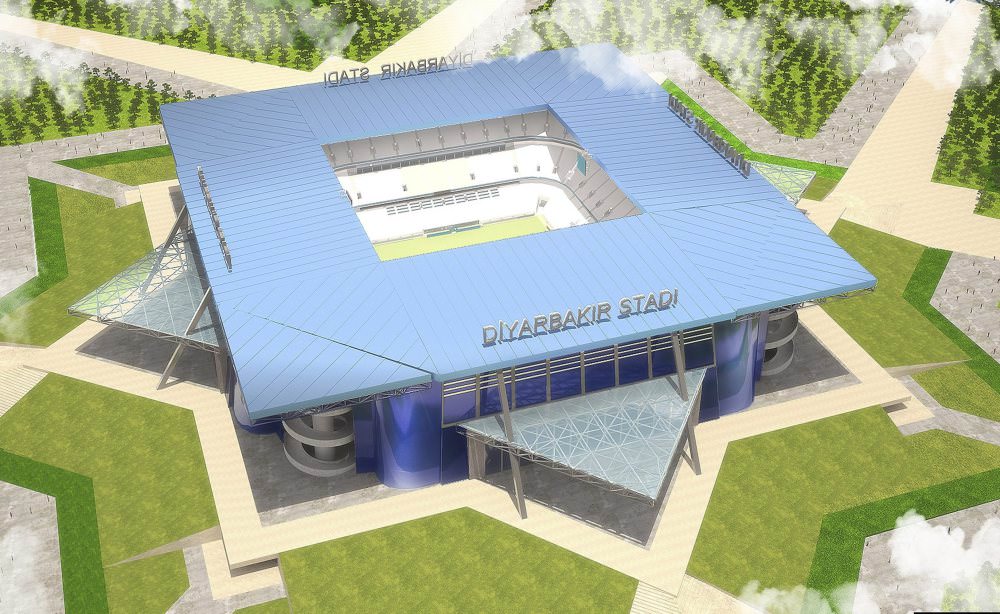 New Diyarbakır Stadium
Also, stadiums in the provinces of Sakarya, Gaziantep, Kocaeli, Samsun, Eskişehir, Adana, Malatya, Hatay and Batman are being built.
Türk Telekom Arena in Istanbul and the new Mersin Arena stadium were the first two in large projects planned across the country by TOKİ. The overall plan is to establish modern sports infrastructure for each province. Not necessarily of top quality, but built efficiently and suiting demand. This is why Turkey isn't following Poland or Russia in building too bigger stadiums for too much money - most are to hold between 25,000 and 40,000 and this seems to fit the needs of most clubs in the long run.
The need for a new stadium in Gaziantep was clear for years with renovation works for the existing central stadium falling short of modern requirements. The final capacity should stand at 36,000 people, but the stadium should hold a reserve under the roof for further expansion to some 43,000, should demand increase. Preparatory works on the site some 6 kilometers from the heart of Gaziantep begun in May 2013.
Anticipated for years and subject to several failed attempts, the new stadium in the football-mad Eskişehir is finally on track with ground works ongoing. Soon, fans of "Es Es" should be able to use the almost 35,000 seats in what will be a simple, but very cost-effective stadium.
Announced back in 2011, 65 percent of the new stadium for the northern city of Samsun has been completed. With two tiers it will hold over 34,000 people with numerous skyboxes, 474 VIP seats and a 128-seat VIP section.
The new 33,000-seater Antalya Arena is a multi-purpose stadium. It is used mostly for football matches, hosting Antalyaspor's Super League home games. It has a capacity of nearly 32,539 (all seated) and is totally covered. Initially planned to hold roughly 25,000 people, the new stadium for Sakarya should in the end be significantly larger, with almost 29,000 seats on two tiers, all under a light membrane roof. The southernmost province of Hatay is to receive its new stadium soon. The double-tiered stands are to hold roughly 25,000 people, while other sports facilities are planned around the stadium, including an indoor hall, swimming pools and smaller amenities.