Kosovo who became the 210th member of FIFA in May, will play against Finland in the first match of the qualifications campaign for the next World Cup to be held in Russia. But, excitement ahead of the Balkans outfit's historic match has been marred by questions over who will be allowed to play for the team. According to FIFA's rules, someone who has played for another national team cannot normally switch allegiance, so a number of Kosovo's potential players have had to apply individually for special permission -which is still awaited.
"It is unprecedented as they played for other national teams while Kosovo was not a member of FIFA... Now they should be given this opportunity like everyone else," the head of Kosovo's football association Fadil Vokrri told AFP.
"FIFA should allow a one-off exemption for Kosovo." A FIFA spokesman said the various applications "are currently pending and being investigated" but he could not give an estimation of how long the decision process would take. Kosovo unilaterally declared independence from Belgrade in 2008 and remains unrecognized by several countries, including Serbia and Russia. Serbia vehemently opposed Kosovo's admittance to world governing body FIFA, which came soon after Europe's governing body UEFA narrowly approved their membership.
"It is a dream coming true," midfielder Alban Muja wrote on his Facebook page. He intends to play for Kosovo after switching from the Albania. A total of 24 players with roots in Kosovo currently play for six other national teams.
Most of them play for Albania, who are mourning the decision of four players so far from their European Championships squad earlier this summer to play for Kosovo. Others include Belgium's Adnan Januzaj, Finland's Perparim Hetemaj and Sweden's Arber Zeneli, who all await the green light from FIFA.
Amid the uncertainty ahead of the game at Finland's Turku Stadium, coach Albert Bunjaki has had to operate with two lists of footballers - 15 who can definitely play and 11 awaiting permission. He decided to assemble the first meeting of the team on Sept. 1 in Turku for intensive training ahead of the match. Despite the complications, Bunjaki remained upbeat.
"This is just the beginning of the project of creating a good team for the next European Championships," he said. Choosing to switch teams was an agonizing decision according to Norway's Valon Berisha, who has applied to play for Kosovo.
"I was born in Norway and everything I achieved was thanks to Norway. I was in limbo for three to four weeks not knowing what to do."
In the end, he decided to play for Kosovo while his brother Veton will stick with Norway, he said. As they don't yet have a stadium that meets international standards, Kosovo will play the opening home qualifier against Croatia on Oct. 6 in the Albanian city of Shkodra. Kosovo's officials are hoping the stadium in the capital Pristina will be ready for World Cup qualifiers by June next year.
Bajram Jashanica, a defender for Albanians Skenderbeu Korce, has already made his debut for Kosovo in a friendly against Turkey, and said the long wait for today's match was motivating the team.
"Emotions are running high around us. We have to overcome them in order to achieve a good result. We are ready and we can make it," he told AFP.
Turkey and Croatia among Kosovo's first World Cup opponents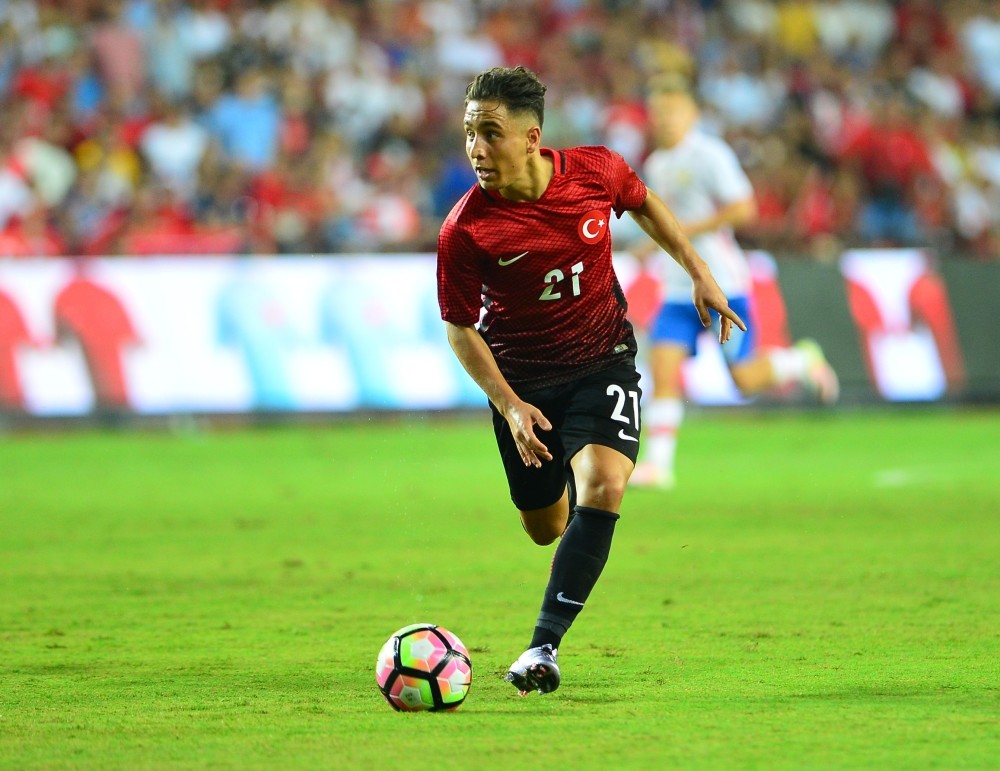 Emre Mor
The road to Russia 2018 began for European teams with 27 World Cup qualifying matches from Sunday to Tuesday. Kosovo will also face Croatia, Turkey, Iceland and Ukraine when they make their debut in the World Cup qualifying competition this year. Croatia host Turkey today in evenly-balanced Group I, where Euro 2016 surprise side Iceland are at Ukraine, and Finland host newcomers Kosovo. Only hosts Russia are assured of qualification, with 13 other places up for grabs between the remaining 53 national associations. Qualifying is therefore going to be far tougher than for the 24-team Euro 2016 in France won by Portugal. Only the nine group winners are guaranteed qualification, with four further teams going through via play-offs.