Fenerbahçe will appeal for receive compensation from FIFA as star midfielder Ozan Tufan is set to miss two months of play due to a serious injury picked up in Turkey's game with Iceland on Oct. 9. Tufan tore his anterior cruciate ligament and medial collateral ligament in Sunday's 2-0 defeat against Iceland in Rejkjavik and now faces a race against time to recover in time for the Spor Toto Super League's second half.
Under FIFA's Club Protection Program, introduced in June 2012, clubs are protected from paying the wages of players injured on international duty who are then out of action long term, with payments beginning on the 29th day after the injury is suffered.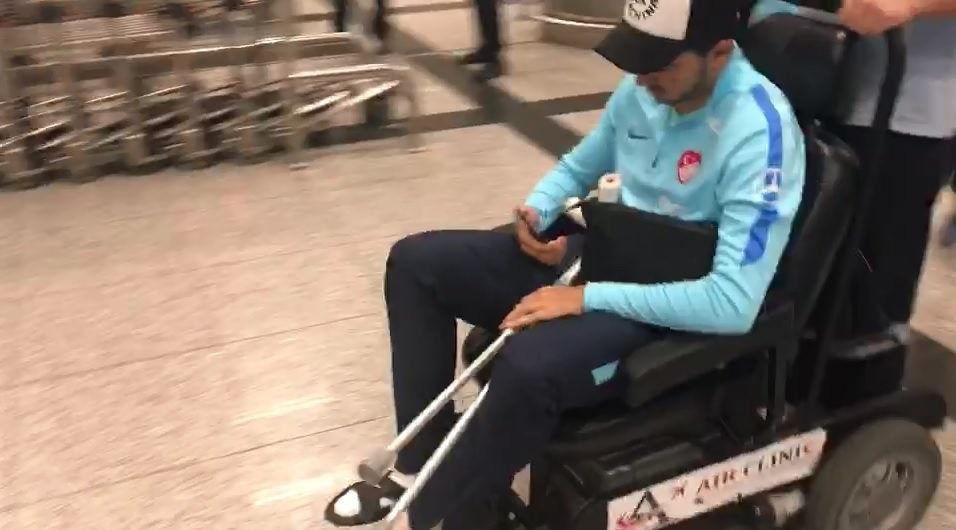 Ozan Tufan returned to Turkey in wheelchair after he was injured in the match against Iceland.
"During the release period of such international 'A' matches, football players may suffer bodily injuries caused by accidents," says FIFA's program guidelines. "As a consequence, a football player can suffer a temporary total disablement [TTD] that prevents him from participating in his football club's matches.
"However, the football club still has an obligation to pay the football player's salary based on the employment contract. Since the football player cannot work for the football club during a TTD, FIFA has decided to provide compensation for losses encountered by the football club during the period that the football player is temporarily totally disabled."

So, Fenerbahçe want to be paid the money that Ozan Tufan will be able to earn during his injury in accordance with his contract with the club.Fenerbahçe will cite Real Madrid's Marcelo case, while they appeal to FIFA. In 2012, FIFA paid Marcelo's salary for Real Madrid for the duration of his injury, which was sustained during a training session with Brazil. The left-back's injury, a broken fifth metatarsal, which kept him out of action for three months, qualified for FIFA's Club Protection Program, an insurance scheme introduced earlier that year. 
Tufan's injury has become a serious blow for the Yellow Canaries, which have performed poorly in the Super League. They made their worst start in 59 years this season. However, Tufan contributed greatly in recent weeks with his improving performances. That's why his untimely injury prompted Fenerbahçe to search for compensation. It has not yet been announced how much Fenerbahçe will potentially receive. 
Given that Tufan earns $1.5 million a year, he is paid approximately $4,000 per day. 
Marcelo was earning $3 million per year after tax, so FIFA was forced to pay Real Madrid $8,228 per day until he received the all clear to play again. Considering he was sidelined for three months, which means the Merengues should receive around $750,000 in compensation from FIFA. 
On July 10, 2015, Marcelo signed a new contract with Real Madrid, keeping him with the club until 2020.
Minnows Iceland keeps surprising, and Turkey were the latest victim at Laugardalsvollur Stadium in Reykjavik, beaten 2-0 thanks to two goals shortly before half time Sunday in qualifying for the 2018 World Cup. The first was an own-goal from center back Ömer Toprak before Iceland forward Alfred Finnbogason scored with a volley 90 seconds later, hitting the back of the net for his third international game in succession.