Carlos Alberto, who scored one of the greatest goals in World Cup history while captaining Brazil to glory in the 1970 final against Italy, has died aged 72 following a heart attack.
The marauding right back scored his team's fourth goal in a 4-1 win over Italy in Mexico's Azteca Stadium, a thumping drive that ended a move involving eight players, before hoisting the Jules Rimet trophy as Brazil won the title for the third time.
"I am saddened by the death of my friend and brother Carlos Alberto, our beloved Captain, and I remember the times that we were together at Santos, Brazil and the (New York) Cosmos, where we formed a winning partnership," Pele said in one of the many tributes from former greats.
Carlos Alberto was a classy defender who played for Fluminense, Santos, Flamengo and the Cosmos and earned the nickname 'The Captain' for his leadership qualities.
He won his first titles at Fluminense in his home city of Rio de Janeiro but his best days were at Santos where, alongside his friend Pele, he won two first division titles and five Sao Paulo state trophies.
The full back was also one of the first major football talents to play in the U.S. when he joined the Cosmos.
"We're deeply saddened by the loss of Carlos Alberto, a legendary player and wonderful person," the New York club said on Twitter. "He'll always remain part of the Cosmos family."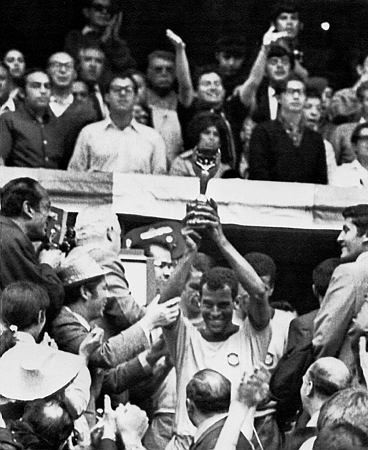 LEADING ROLE
After returning to Brazil as a coach, he led Flamengo to the Brazilian first division title in 1983 and Fluminense to the Rio de Janeiro state championship in 1984.
On retiring from the game Carlos Alberto worked as a commentator and brand ambassador, but will always be remembered for his leading role in the 1970 Brazil side, which is often referred to as the greatest football team of all time.
He captained a group of players who went to Mexico under a new manager, who had been given little time in which bed in.
Carlos Alberto was a natural leader, even in a side that boasted all-time greats such as Tostao, Gerson, Rivellino and Jairzinho as well as Pele.
Many of the players were captains at their clubs but deferred to Carlos Alberto, who had poise and presence and was not averse to dressing down his more celebrated team mates.
Tributes poured in from around the football world with football's governing body FIFA calling the defender a "born leader" and the Brazilian Football confederation declaring a minute's silence before this weekend's fixtures.
"Carlos Alberto Torres was an example of guts and leadership," Brazil President Michel Temer said on Twitter. "I'm saddened by the loss of the captain who led Brazil to their third World Cup win."