Başakşehirspor and coach Abdullah Avcı are storming through the Super League right now. They are the league leaders and have not been beaten yet. This season they have beaten Fenerbahçe and Galatasaray, the two big guns of Turkish football. Daily Sabah interviewed coach Abdullah Avcı to learn the reasons for their success.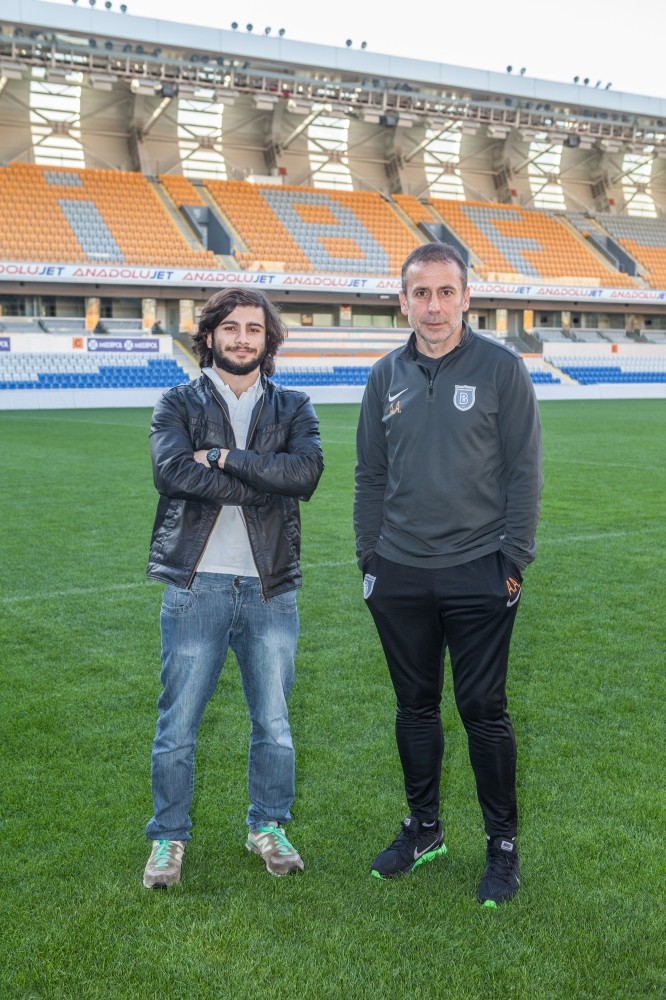 DAILY SABAH: Başakşehirspor are the league leaders now, scoring 24 goals while conceding only six, which are Super League's bests. How have you managed to achieve this incredible result?
Abdullah Avcı:
Usually people expect to see good results immediately after you take over the job, but we did not pursue that goal. For the first six months that I was in charge, we only worked on collective defending, given it requires an extreme amount of repetition. Nevertheless, prioritizing the defensive side would be boring for both me and my players in the long term, because the nature of football also requires attack. Then, we started to work on a transition game, but our attacking variations depend on the quality of the squad and the character of our opponent. We usually implement four or five attacking variations in a game. I do not want to use any more than that because that may become confusing for our players.

If you can combine squad quality and tactical quality, which is what we are trying to do here, you can organize collective actions easily

- Abdullah Avcı
We have to accept the difference between attempting to play offensively and having a concrete plan to play offensively. In the last one and a half years, we have been focusing on attacking variations in order to make our attacking power more reliable. It is not enough to say "we are going to play attacking football," you have to create attacking variations to make it happen.

DS: Is the same collective approach also behind the success of your defensive performances?

AA: Exactly, our four attacking players that play regularly, Edin Visca, Cengiz Ünder, Mehmet Battal and Mossoro are also our first line of defense. Their defensive performance automatically affects the performance of the defenders, so it is impossible to say that neither our goalkeeper Volkan Babacan nor center backs Yalçın Ayhan or Alexandru Epureanu's individual performances can compensate their lack of defensive action. Our worst game of this season was the one against Gaziantepspor and it was because these attacking players did not cover the zones they were assigned to defend.

Added to that, if you watch the Turkish teams on TV, you cannot see the whole team in one frame while defending. Players are chaotically positioned on the pitch and you cannot see a tough defensive line that is compact and holistic. Nonetheless, at Başakşehirspor we do not do that. Every player at this club has clear defensive duties and areas that they have to cover according to the position of the ball.

DS: In many of your interviews you have emphasized the difference between squad quality and tactical quality. Do you think Başakşehir's success depends more on tactical quality?

AA: You can win games with squad quality, but you can win the championship with tactical quality only. Now we have players like Emre Belözoğlu in our midfield and he adds a great amount of quality to our game, but if we let his feet do everything it would not be right. If you can combine squad quality and tactical quality, which is what we are trying to do here, you can organize collective actions easily. For instance, two years ago we beat Galatasaray 4-0 and our squad was merely a match for them, but only tactical quality carried us to that result. In the end, squad quality and game tactical are mostly aligned to each other, it is important to improve them together.

DS: You have always emphasized that formations and individual talents are not enough to win and a coach should build the connections between these individual talents. Do you think this is another crucial element in your success?

Collectivity is the key word in our philosophy, and you cannot see our team playing separately or chaotically on the field. As a coach, I cannot do my job if my players act out of order on the field, or make lots of individual choices. Just like most European teams, we try to settle collective action here at Başakşehir. Whatever we do on the pitch, we do it together and in blocks. But of course as our squad quality and tactical quality gets better, we will come closer to the game European teams play.