With Lionel Messi's fifth goal in six games this year, Barcelona comfortably defeated Eibar 4-0 on Sunday to keep pace with leaders Real Madrid and Sevilla at the halfway point of the Spanish league.
Substitute Denis Suarez, Uruguay striker Luis Suarez and Brazil forward Neymar also scored as the defending champions cruised to victory in the Basque Country to finish the first half of the season two points behind Madrid and one behind Sevilla.
Madrid, which has a game in hand, ensured first place by defeating Malaga 2-1 on Saturday with two goals by defender Sergio Ramos at Santiago Bernabeu Stadium to snap a three-game winless streak. Sevilla beat last-placed Osasuna 4-3 on Sunday.
Denis Suarez, who came off the bench 10 minutes into the match because of a right-ankle injury sustained by midfielder Sergio Busquets, put Barcelona ahead with a low shot from the edge of the area in the 31st minute.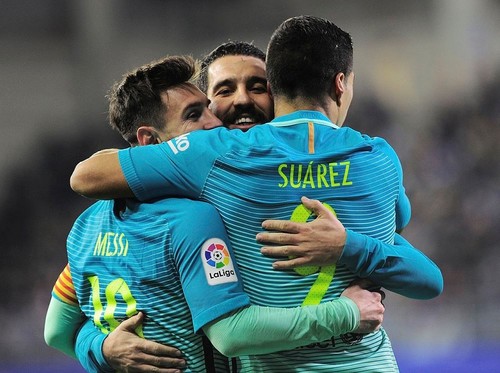 Barcelona's Uruguayan forward Luis Suarez (R) is congratulated by teammates Argentinian forward Lionel Messi (L) and Turkish midfielder Arda Turan after scoring his team's third goal during the Spanish league football match SD Eibar vs FC Barcelona at the Ipurua stadium in Eibar on January 22, 2017. (AFP Photo)

Messi netted for the fifth straight time in the league with a touch from close range in the 50th. That came after a cross by Luis Suarez, who scored from inside the area in the 68th before Neymar got the fourth goal after a breakaway in injury time.
Messi and Suarez are the league's leading scorers with 15 goals each, three more than Cristiano Ronaldo.
Messi is having another superb season with the Catalan club, having scored 28 goals in 26 matches. Only once he went two consecutive games without finding the net, dating back to September. He was held scoreless for the first time this year by Real Sociedad in a Copa del Rey match last week.
Eibar, which has won only once in the last six rounds, had a goal disallowed for offside in the 53rd, with the score at 2-0. It is 10th in the 20-team standings.