Turkey Thursday officially submitted its bid to host the UEFA Euro 2024 football tournament as Turkish Football Federation (TFF) Chair Yıldırım Demirören presented the official candidacy application file to UEFA General Secretary Theodore Theoridis in Nyon, Switzerland. The country had previously bid to stage the finals in 2008, 2012 and 2016. Demirören said Turkey "deserves" to host the event after three failed bids for previous football championships. The TFF announced it was bidding to host EURO 2024 on Feb. 15.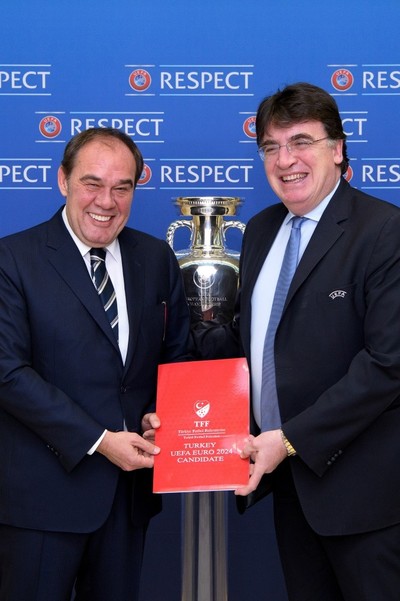 Turkish Football Federation head Yıldırım Demirören (L) handed over the application to Theodore Theodoridis, UEFA's General Secretary.
UEFA will announce all 2024 bidders on March 10 and its decision on the winning bid in September 2018. The TFF chief highlighted the country's recent investments in stadiums as an asset to their bid.
"Turkey is the only example of a country in Europe or even the world which has made as many as 32 stadium investments in the last few years," Demirören said.
Luckily for Turkey, the joint-Scandinavian pitch withdrew their application for Euro 2024, leaving Turkey and Germany as the only two candidate countries.The German Football Association's (DFB) proposal, featuring 10 stadiums, was outlined in January, and a declaration of interest has now been submitted ahead of Friday's deadline. Germany will unveil its proposal later this year. DFB President Reinhard Grindel presented the declaration to UEFA General-Secretary Theodore Theodoridis and said, "It was important for me to tell UEFA, in person, that we stand behind this application determined and united."
Euro 2016 in France was the first edition of the European Championship to have 24 finalists, compared to eight in 1988, the previous instant when Germany hosted the event. The last major football tournament staged in the country was the 2006 World Cup.