Former Real Madrid defender Pepe completed his move to Beşiktaş Tuesday after the Turkish giants announced they have reached a two-year-deal worth 9.5 million euros with the 34-year-old center-back.
In addition to the 9.5 million euros, the Portuguese international will also earn 4,000 euros for every point earned by the Black Eagles, with him playing.
Pepe landed in Istanbul in the early hours on Wednesday on a private jet and was given a rousing welcome by hundreds of Beşiktaş fans, who had waited overnight at the airport.
He then went through a full medical before giving an interview to BJK TV, the official TV station of the Istanbul-based club.
Lounging in a chair in the middle of club's Vodafone Arena stadium by the Bosporus, Pepe said he hoped to make the club fans happy.
Earlier, he tweeted a photo of Beşiktaş's 15th Turkish league title celebrations with the caption "Bu sene?" meaning, "This year?" in Turkish.
The Brazil-born Portuguese national will join fellow Portuguese player Ricardo Quaresma in Beşiktaş. Pepe heaped praise on 33-year-old winger saying, he "helped him score many times" during their time with the Portuguese national team.
After years in the shadow of Istanbul rivals Fenerbahçe and Galatasaray, Beşiktaş have won the two consecutive Turkish Super Lig titles in last two seasons.
With Turkey's only automatic Champions League berth in their possession, Beşiktaş hope for drastic improvement on their group-stage exit last time round.
Even though French internationals Mathieu Valbuena and Bafetimbi Gomis have already signed for Fenerbahçe and Galatasaray respectively, Pepe is arguably the biggest name to arrive in Istanbul so far this summer.
Pepe spent the last decade as a key member of the star-studded Real Madrid side and helped Portugal to victory in Euro 2016, winning the man-of-the-match award in the victory over France in the final.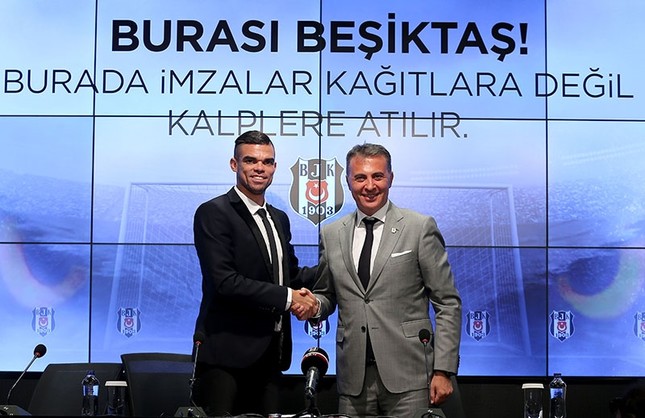 Joining Pepe at the signing ceremony on Wednesday, Beşiktaş Chairman Fikret Orman said Pepe had a significant career and had long been in their sights.
"We were in need of a leading figure in our defense," said Orman, but also acknowledged that their current defensive mainstays Marcelo and Tosic "did well" last season.
"We don't need too many new transfers, rather we want to make some spot-on choices," Orman said, adding that they might transfer just one more player in the summer.
Speaking at the contract signing ceremony, Pepe said that messages from Beşiktaş fans over the past two months inviting him to join the club helped him make up his mind and he was looking forward to wearing the black and white jersey.
Pepe was also shortlisted by Paris Saint-Germain and Inter as the transfer window opened while he also acknowledged interests from Premier League clubs.
The Black Eagles spent millions over the past years to find the "perfect" defender and transferred in 25 defenders in the past decade but much to the frustration of the fans and management.
Pepe donned the Real Madrid jersey for almost a decade but was left without a contract last month after he rejected a one-year extension with the Spanish club.
He rose to prominence for Portuguese side Porto, but it was in Real Madrid where he shone and shared the glory in three Champions League and three La Liga titles.
Though Pepe made only 18 appearances for Real Madrid last season due to injuries, he was a key member of the Portuguese national team that won the European Championship title last year.