Neymar hobbled out of a training session on Tuesday, setting alarm bells ringing in the Brazil camp as they prepare for their second World Cup group game against Costa Rica on Friday.
"Neymar came out of training today with a painful right ankle," said Vinicius Rodrigues, a spokesman for the Brazilian Football Confederation (CBF).
Heavily marked and far from his best, Neymar was fouled 10 times in Sunday's 1-1 draw against Switzerland in Rostov-on-Don in Brazil's opening Group E outing. He was limping when he talked to reporters after the match, when doctors dismissed anything serious.
The 26-year-old could be seen grimacing as he held his right ankle after feeling pain as he took part in a light session for those who had started that game.
Neymar had not taken part in training on Monday, as the side returned to their base in Sochi on Russia's Black Sea coast.
Rodrigues confirmed the problem concerned the Paris Saint-Germain star's ankle and not the foot he fractured in February, an injury that required surgery and forced him to miss the rest of the club campaign.
"As soon as he felt the pain he went to the physio. He will stay there for today and tomorrow (Wednesday) morning, and will train as normal tomorrow," added Rodrigues.
Neymar started practicing with the rest of the squad but left accompanied by a doctor about 30 minutes into the session in Sochi.
He had been playing keep-away with a few other players when he started showing signs of discomfort in his ankle. He was visibly in pain after he tried to intercept a ball with his right foot while at the center of the keep-away circle.
At one point, he bent down and grabbed his ankle, but tried to continue playing anyway. A few moments later he finally decided to leave, kicking a ball away with his left foot before limping away beside the team doctor.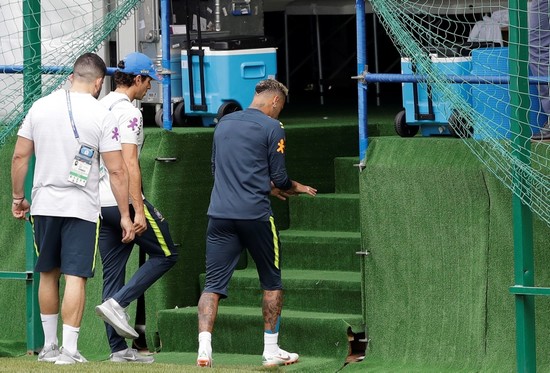 Neymar only made his comeback from the foot operation as a substitute in Brazil's 2-0 friendly win over Croatia on June 3.
He scored in that game, and then made his first start since the injury, also scoring, in a 3-0 win over Austria in Vienna just before Brazil coach Tite's squad flew to Russia.
Tite said before the tournament started that Neymar wouldn't likely be in his best form until the third match of the group stage.
Brazil are due to travel on Wednesday to Saint Petersburg, where they will play Friday's game.
Brazil and Switzerland are two points behind group leader Serbia, which defeated Costa Rica 1-0 in its opener.