The World Cup-winning French team returned home Monday, parading down the Champs-Elysees as hundreds of thousands of cheering fans gave a raucous welcome to the country's newest idols.
After overcoming a determined Croatia to win 4-2 in Sunday's final in Russia, the team came back to euphoric crowds in Paris hoping to catch a glimpse of the players that have captured the nation's imagination.
The celebration did not go as smoothly as planned, however, as some fans outside the luxury Hotel de Crillon were however disappointed after a lengthy wait to see the team, and vented their frustration on police.
Bottles were thrown, people shouted and booed angrily, before police finally broke up the crowd and forced them to disperse.
Overall, some 292 people were arrested nationwide with 31 people, including eight minors, having their detention extended on suspicion of involvement in incidents in Paris during the victory celebrations, a Paris prosecutor said late Monday.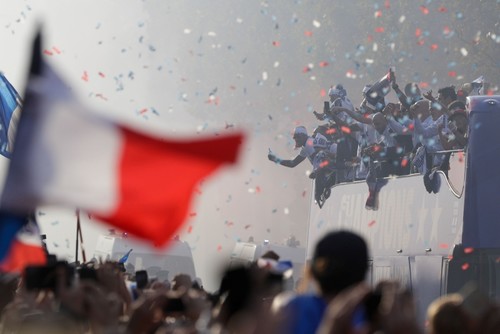 Riot police was sent to the biggest Nike store in Paris as authorities feared fans would violently demand new French national team jerseys with two stars, symbolizing their two world titles.
Two people died Sunday in France 45 police officers were slightly injured during celebrations Sunday.
Monday's parade was under heavy police guard, with 2,000 officers deployed in the capital to ensure the safety of the estimated 300,000 people who turned up.
Above the partying crowds, nine jets from the Patrouille de France, the air force's acrobatic unit, did an honorary flyover trailing blue, white and red smoke.