The UEFA Executive Committee will have to make a choice by tomorrow on who will host the 2024 UEFA European Football Championship - Turkey or Germany? The committee will meet in Nyon, Switzerland to choose between the two candidates. Ahead of the deadline, Turkish Football Federation (TFF) Vice President Servet Yardımcı, who is also a member of the UEFA Executive Committee, told Reuters that the European football body may well vote for a change and deservedly select Turkey to host the tournament. Spearheading the Turkish bid, Yardımcı said he believes Turkey's attraction as a venue lies precisely in its status as an untapped resource for UEFA.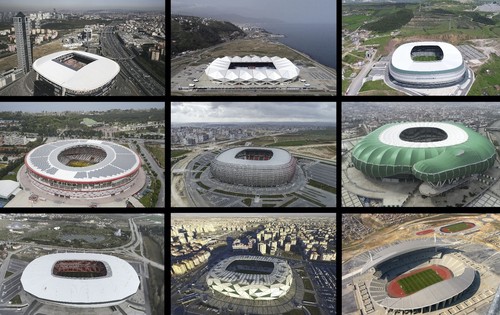 "Germany has a proven track record in hosting events but Turkey is a new market," Yardımcı told Reuters in an interview.
"It is a completely new frontier because they [UEFA] will attract more supporters, more sponsorship, more excitement. It will bring an added value to the revenue UEFA is looking for. UEFA would definitely be much stronger financially if Turkey is the host rather than another European country."
Holding the tournament in a country that straddles Europe and Asia would reinforce an appetite for global expansion in European football at the moment. Spain's La Liga is planning to take games to the United States and UEFA is discussing the possibility of having the Champions League final in New York.
"[Turkey] is the only UEFA member that links west to the east. Istanbul is also a great gateway to the Middle East and Africa," Yardımcı emphasized.
Istanbul's Atatürk Olympic Stadium was chosen for the 2020 Champions League final, beating off competition from Lisbon's Estadio da Luz. Moreover, Vodafone Park stadium, also in Istanbul, will host the 2019 UEFA Super Cup.
"The trust is there already, the fact the 2020 and 2019 finals were given to Turkey demonstrates the support and trust and confidence UEFA has in us," Yardımcı added.
Turkey's stadiums all meet criteria to host Euro 2024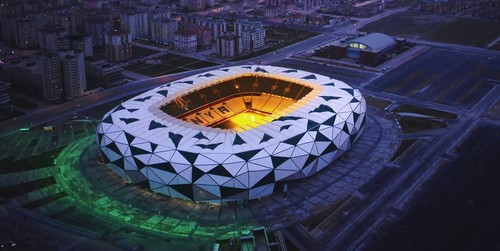 Metropolitan Municipality Stadium in Konya
Turkey's stadiums are ready ahead of UEFA decision on the host of UEFA European Football Championship (Euro 2024). According to a UEFA evaluation report, all the stadiums meet the minimal requirements regarding net seating capacities. All seats indicated are covered by stadium roofs. According to the proposed match schedule, the aggregate net capacity for 51 matches will be about 2,490,000. The Turkish Football Federation (TFF) has confirmed a combined ticket system for free public transport for match ticket holders in all host cities and a tobacco-free environment at the stadiums.
"The Turkish bid proposes 10 stadiums of which seven are existing operational stadiums, requiring upgrades only. The stadiums in Istanbul [Atatürk Olympic Stadium] and Ankara will be rebuilt fully, and Antalya stadium will undergo major renovations," the UEFA report said. The report added, "Overall, seven stadiums in the Turkish bid offer existing infrastructure at a good level, while three stadiums will be rebuilt fully or will undergo major renovations. The existing stadiums are all fully operational and are hosting football matches regularly."
The TFF offers the 10 stadiums, including the required outer areas for 51 matches, at no cost to the organizers. The Turkish Ministry of Youth and Sports is subsidizing all stadium costs and has provided a full guarantee that all 10 stadiums, all training facilities and operational personnel will be given to UEFA free of charge. Servet Yardımcı, a UEFA executive committee member, noted Turkey's bid says 10 stadiums will be used during the tournament, with eight of them already completed.
"They're an average three years old. So they're newer than the German stadiums," Yardımcı told Anadolu Agency (AA).
"The Turkish government has given financial and legal guarantees. We won't charge any transportation fees for fans to travel around Turkey during the tournament. Turkey's financial benefits to UEFA would be better than Germany's," he added. Turkey's Euro 2024 pitch features 10 stadiums in nine cities: the Atatürk Olympic Stadium and Ali Sami Yen Sports Complex Türk Telekom Stadium in Istanbul; Metropolitan Municipality Stadium in Bursa; Antalya Stadium in Antalya; Eskişehir New Stadium in Eskişehir; Gaziantep Stadium in Gaziantep, Metropolitan Municipality Stadium in Konya; Şenol Güneş Sports Complex in Trabzon, New Stadium in Kocaeli and the New Stadium in Ankara.