Turkey welcomed the fifth generation grandson of Ottoman Sultan Abdülhamid II on Friday, as the newest prince of the Ottoman Empire Abdülaziz Osmanoğlu said hello to the world in Istanbul.
Descending from Ottoman royalty, the newborn prince was literally born with a silver in his mouth.
At 10:00 a.m. little blue-eyed Osmanoğlu opened his eyes in the Private Memorial Hospital in Bahçelievler, ready to be embraced by his loving mother Walaa Osmanoğlu and father Abdülhamid Kayıhan Osmanoğlu.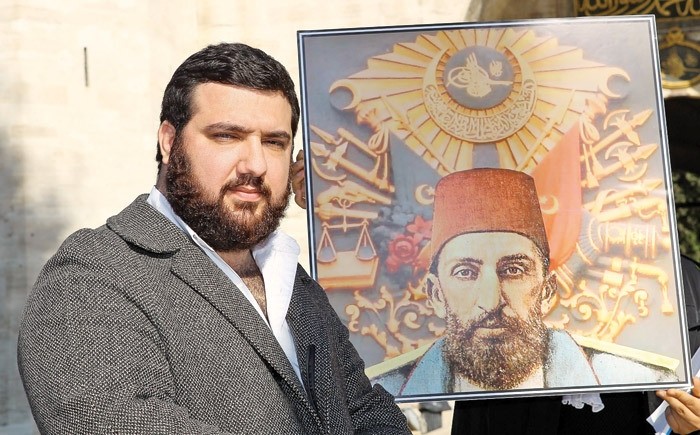 His father Abdülhamid Kayıhan Osmanoğlu stands in front of a drawing of Sultan Abdülhamid II. (Photo courtesy of Türkiye newspaper / Ali Kemertaş)

Of course, his grandfather Harun Osmanoğlu, grandmother Farizet, aunt Nurhan, grandmother Najwa Ghuniem and older brother Harun Osmanoğlu were also the first ones to be beside him, to welcome the 26th living Ottoman prince.
Abdülaziz Osmanoğlu is also the 9th grandchild of Sultan Harun Osmanoğlu, a member of the Ottoman Dynasty.
The grandfather of little prince, Harun Osmanoğlu said that he was really happy about the birth and hoping for his grandson to be a great intellectual one day.
Harun Osmanoğlu is the third generation grandson of the 34th Sultan of the Ottoman Empire, Abdülhamid II. He is currently living in Istanbul and has nine grandchildren from his two sons and daughter.
The little prince's father Abdülhamid Kayıhan Osmanoğlu is the first sultan who was born in Istanbul after the exile which lasted 50 years for the men of the Ottoman dynasty.
The oldest sultan alive of the late Ottoman Empire, Osman Bayezid Efendi, is the third generation grandson of Abdülmecid II, the last Caliph of Islam.
Sultan Abdülhamid II was known for his dedication to science and technology. Fascinated by the rapid advancement of science in the 19th century he imported many technical devices that caught his attention overseas.
One can only hope that the newest Ottoman will also take an interest in the fascinating world of science and make his ancestors proud.