Objects that used to feature in everyday life are currently on display in an exhibition house to shed light on the history of Malatya and its surrounding areas.
Arapgir Municipality transformed the areas of the houses belonging to Asım Kütah into exhibition venues with a project initiated in 2009 to shed light on the everyday life of the past as well as to build a bridge with the present. The house puts various objects, such as gas lamps, chests, copper vessel, old radios, trays, handmill, lanterns, jars, pots, measuring tools, weaving looms, copper kitchenware, an iron, a clock, a bed, a bucket and boilers on display for visitors.
The exhibition house came about with the support of the municipality and locals. Locals have donated thousands of materials, making the house a center of attraction for tourists as well.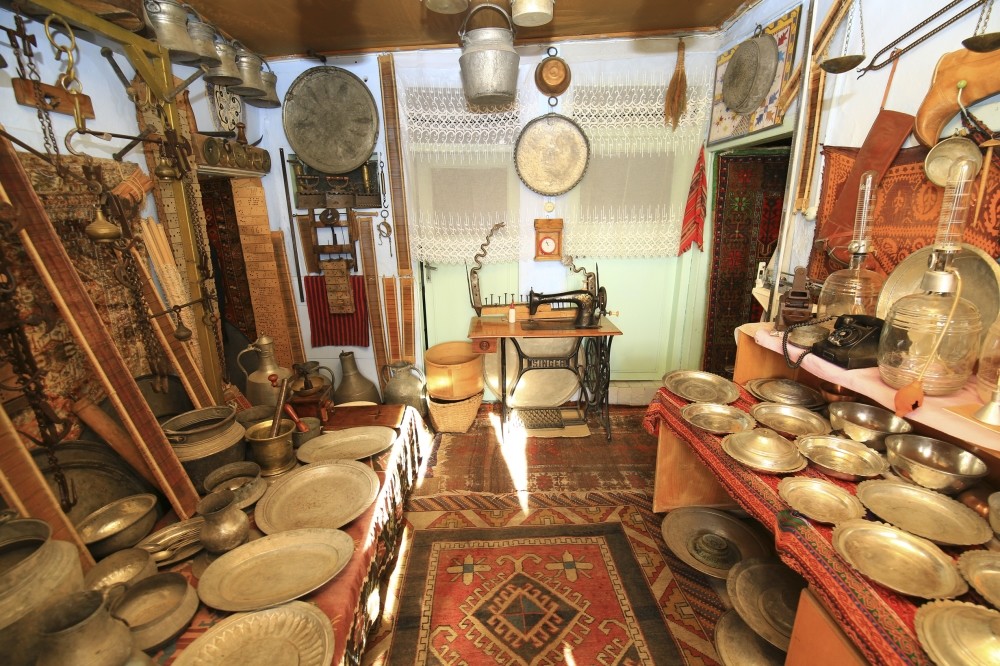 Speaking to an Anadolu Agency (AA) correspondent, Arapgir Municipality Mayor Haluk Cömertoğlu said their district is located in the center of the Upper Euphrates River Valley with a rich local history. Mayor Cömertoğlu said the municipality has been initiating serious projects to revive the historical, cultural and natural heritage of Arapgir since 2009, adding that the valley to which Arapgir belongs has remarkable features.
Mayor Cömertoğlu said their aim is to keep their production and representation traditions alive and they established the exhibition house to introduce the materials used generations ago to the future generations. He said: "We are keeping alive many traditions and objects that were used in the houses of this district. In fact, we are an agricultural and industrial community and the objects scattered around our houses mirrored our habits and traditions. We put all these objects together and established an exhibition house. There is a wide range of objects on display, from measuring tools to kitchenware."
Mayor Cömertoğlu further added that the municipality continues to works on a kitchenware museum to display the history of kitchenware in the district. Pointing out to the giant weaving industry that used to exist in the district, Cömertoğlu continued: "Back in 1830, Arapgir had more than 5,000 weaving l
ooms. The fabric known as 'Arapgir Alacası' was produced in the district and exported to seven countries. This is a significant number. There were also various commercial branches born out of weaving. Horseshoes, saddles and all other things were the product of this handcraft.
"The district of Arapgir was also a place for copper and tin productions as well as painting. All tools related to products of soil were produced in Arapgir. We
have gathered all these objects under the roof of the exhibition house. Our work here is an effort to protect our culture and traditions. Hence, we designed the exhibition house. We will do everything in our power to turn this place into a museum. I thank everybody who worked hard for this project."
Additionally, Asım Külah, whose historic house in the district has been turned into an exhibition house, said he has been interested in old objects since childhood. He said he used to be a shop owner and focused on his hobby following his retirement. He and the municipality decided to bring the objects of the past together to establish a place to display them.
Külah also said they are keeping the memories of the district alive at the exhibition house: "We protect the objects used by our forefathers. When we look at the old objects, we remember the past. People who come to visit Arapgir are very interested in the exhibition house. This place also contributes to the recognition of Arapgir."