A 4,500 year-old jug, believed to be from the Bronze Age, has been returned to Turkey, the Culture, Tourism and Publicity Office of Turkey's Embassy in London said.
The embassy noted that the jug is 26.5 centimeters in height and has features of the Yortan culture, and dates back to the early Bronze Age.
The jug was reportedly bought as a souvenir by British citizen Thelma Bishop, who visited the Ancient City of Ephesus in the 1960s and brought it back to Britain.
Bishop decided to return the jug to Turkey when she found out that it is a cultural property, through Adam Partridge Auctioneers and Valuers in Macclesfield.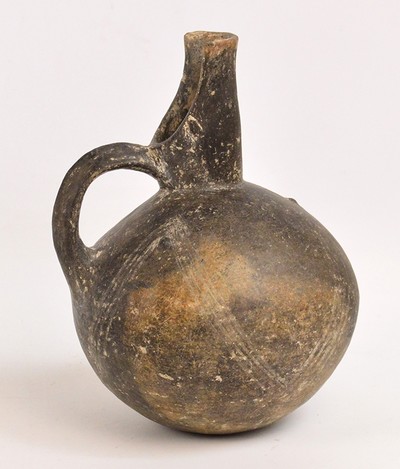 The Yortan jug, which is estimated to be 4,500 years-old (AA Photo)
A consultant at the auction house by the name of Jason Wood, who confirmed the jug's authenticity advised Bishop to return it to Turkey, and contacted the Turkish embassy, reports said.
The Turkish embassy presented a Museum Card, which can be used in various museums throughout Turkey, to Bishop and Wood for returning a cultural asset.
"The return of the Yortan jug is significant in terms of raising awareness about Turkey's and other countries' international legal struggle regarding unlawful export of cultural property amongst auction firms and other countries" the embassy said in a statement.
Furthermore, the owner of Adam Partridge Auctioneers said that he was happy that the rare artifact returned home to Turkey, and wished that their action sets precedent to other auctioneers in Britain.
The jug will be transferred to the Museum of Anatolian Civilizations in Ankara, reports said.
The export, sale or transfer of cultural artifacts has been prohibited by law in Turkey. Article 3 of 1983 Law on antiquities states that "Movable and immovable cultural and natural properties requiring protection that are known to exist or may be discovered in the future on immovable properties belonging to the State, public institutions and entities and natural and juristic persons that are subject to the provisions of private law, qualify as state property."
Although there isn't extensive information about the Yortan culture, research published on the University College London (UCL) identifies Yortan as a prehistoric burial site in the valley of Bakır Çay (Caikos) in İzmir, western Turkey.
Turkey is home to countless number of historical artifacts from ancient civilizations and ongoing excavations throughout the country unearth invaluable cultural heritage.