A 7,500-year-old pointed flint stone resembling modern-day drill bits has been discovered at a prehistoric village in Turkey's northwestern Bursa province, reports said Sunday.
The ancient tool was discovered during excavations at Aktopraklık Settlement Mound in Bursa's Nilüfer district, which sheds light onto 8,500 years of history, Anadolu Agency said.
The excavations at Aktopraklık Settlement Mound were launched in 2004 and the discoveries are exhibited in Aktopraklık Settlement Mound Archaeopark and Open Air Museum.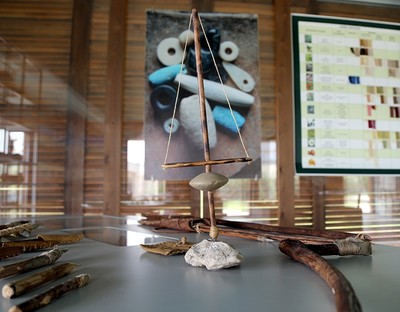 Professor Necmi Karul from Istanbul University Department of Archaeology, who is also the excavation lead at Aktoprak, said, noting that the findings suggest flint stones had widely been used throughout different places in Anatolia.
"We believe that the pointed stone –which was created through the dressing of a flint stone- was used as a bit on a drill" Karul said, noting that ethnographic samples support this claim.
One of such examples is decorative bead-like pieces found in Aktopraklık, which are thought to be drilled by the stone tool.


Aktopraklık settlement dates back to the 7th Century BC and contains significant traces of the Neolithic and Chalcolithic periods.
Aktopraklık excavation project includes all aspects of archaeological heritage and sustainable tourism and aims to integrate it into existing natural and cultural tourism on the local, national and international levels.
Archaeologists in Turkey, which has historically been a home to many ancient civilizations, frequently find significant historical artifacts throughout the country, in efforts to shed light on early human civilizations.