It was recently announced that Çatalhöyük, which was founded by 8,000 people during the Neolithic Age in the Çumra district of Konya province, never experienced war, battles or violence for an astounding 4,000 years.
As a town which bears traces of the Neolithic Age, Çatalhöyük is accepted as one of the oldest settlements of ancient humanity.
Having been accepted as one of the oldest and most prominent cultural heritage sites on the UNESCO World Heritage List, Çatalhöyük is gaining worldwide attention.
After it was discovered by British archaeologist James Mellaart in the 1960s, Çatalhöyük became subject to excavations that began under the pioneership of Stanford University Professor of archaeology and British national Ian Hodder in 1993.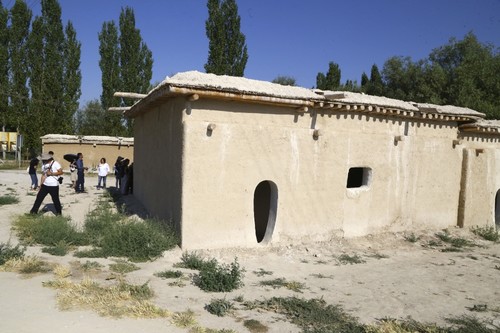 Archaeologists working on the ancient site have conducted research on various topics including social life, culinary traditions and cultural garb worn by people who used to live in adobe houses dating back 9,000 years, constructed adjacently with doors on the rooftops of these homes leading inside.
Covered by a wooden roof designed to protect the excavation site, Çatalhöyük is attracting worldwide attention as one of the most popular spots for local and foreign tourists alike.
Peaceful life without a leader
Speaking to Anadolu Agency (AA), Prof. Hodder said that numerous findings have been unearthed as the result of 25 years of excavations so far.
Emphasizing that the town of Çatalhöyük is an important site which dates back 9,000 years and is located on a large area, Prof. Hodder pointed out, "The area which was home to about 8,000 people initially is being examined for the first time apart from the Middle East."
Hodder spoke about the findings unearthed at the archaeological site, saying: "Çatalhöyük was once a truly stable society. The ancient inhabitants successfully lead a simple life in peace, without fighting, for 4,000 years. It's a superb example and model of a way of life free from fighting. Since collective life within society was important in ancient times, individuality was not seen in Çatalhöyük. The locals used to share a common life and sustained a lifestyle living in peace, without any leader. Family relationships were not very common between them. Rather than living together with family members, these people used to live together with other people from within the society. They were a complex society genetically. Thought to consist of between 3,000 and 8,000 people, they were a truly large family."
Conservation and restoration
Stating that initial excavations have been completed and that archaeologists and researchers are planning to initiate new projects at the site, Prof. Hodder said that conservation and restoration projects will be conducted in the next stage of excavations.
Hodder said the new findings will be evaluated in light of scientific methods, adding: "Within a science committee, teams consisting of experts are being organized. There will be 32 experts on a team, in search of answers to various questions like, 'What did these ancient people eat?' and, 'Why did they come here and from where?' Also, 'How did they protect themselves genetically?'"
Prof. Hodder said that he plans to retire upon completion of the excavations, which began 25 years ago when he was an assistant.