Laodicea Stadium, the biggest stadium in Anatolia where sports competitions and gladiator fights were held in the ancient times, will be unearthed.
The excavation work for the stadium started in Denizli province's Laodicea ancient city, which is on the tentative UNESCO World Heritage List.
Nearly 4000 historical works have been unearthed so far in the Laodicea Ancient City excavation and restoration that have been continued for 13 years under the presidency of Professor Celal Şimşek, the Head of the Archaeology Department in Pamukkale University.
"Sacred Agora," which has one of the seven churches in the Bible collapsed during an earthquake in 494 and it has been completely unearthed now while the figures, the statues, the agricultural tools, the household goods and the equipment are being preserved carefully.
The project for the unearthing of Laodicea Stadium, which is in the Stadium Street of the ancient city and which was the biggest stadium of the time in Anatolia, was designed.
When the project, which was approved by the Protection Board and supported by the Merkezefendi Municipality, is finished, the stadium of sports and gladiator fights will be unearthed after 1,494 years.
The head of the Laodicea Ancient City Excavation Committee, Şimşek, told Anadolu Agency that the 2017 excavation and restoration works are still ongoing, they are mostly focusing on the project of Stadium Street in this season.
Implying that the street of the excavation is important, he said, "The modelling of the columns collapsed in here is still under project and they will be restored in three months. Therefore, the street will be enlivened after 1,500 years."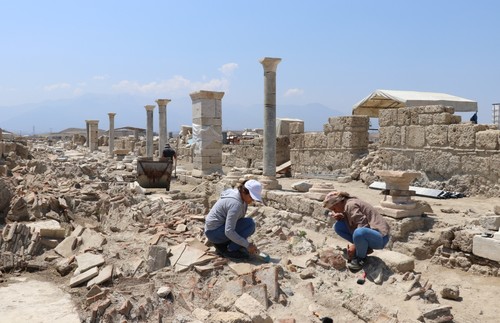 "It is a 285-meter-long, 70-meter-high construction. There is a south bath complex, which is one of the biggest baths of Anatolia, beside it. There is a council building next to the agora. Therefore, this is both a sports and administration area in which people came together. In this aspect, the street has a great importance," he added.
The arena of gladiators
He noted that they know from the tablets that there were many competitions in the stadium in the ancient times and the existence of the sportsmen winning the first place for five times in the competitions is known by written evidence.
"This stadium is also important for gladiator fights. A competition not only for this place but also for the other cities in Lycus Plain was being organized. Sports competitions and gladiator fights in both local and Olympic levels were being held here," he said.