The work to put "Dersim City Museum" into service in Tunceli province, a city that does not have a museum, is about to finish. A historical barrack in Tunceli, which the governorship began to restore, will serve as the Dersim City Museum. Restoration and reinforcement work began two years ago after a fund of TL 15 million ($3.8 million) was provided for the museum on the instruction of the Prime Ministry to turn this barrack, which was constructed in 1937, into a museum.
The museum will not only realize the dream of the city, but it will also become a center of attraction. Located on a 5,800-square-meter area, the museum will house many works such as archaeological findings and chronological information.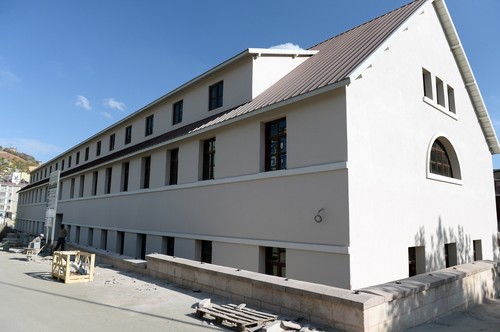 The museum, which will present the historical and cultural values of the region to its visitors by revealing the past, opens next year.
Traces of early republic
Speaking to Anadolu Agency (AA), Tunceli Culture and Tourism Director Hakan Ulaşoğlu said construction of the barrack was completed in 1937 and used for military service until 1949.
Explaining that the barrack bears the features of the early republic period, Ulaşoğlu added that the building, consisting of four blocks on a square floor, was put under protection after being registered in 2005.
"The barrack is attractive since it was constructed with a European architecture style. The building was used as officer lodgments where 65 families lived from 1949 to 2015," said the director.
City without a museum
Implying that the ruined barrack is being turned into one of the most prominent buildings in the city with the ongoing restoration, Ulaşoğlu said: "After it was registered in 2005, the building was to be used for a different purpose. Tunceli was one of the few cities in our country that does not have a museum. Work was started in line with turning it into a museum two years ago, as this idea was found appropriate. Our municipality is working to make the area of the barrack a kind of cultural island. The museum became more visible and attractive after the old vegetable market near it was pulled down."
Indicating that the barrack was in a really bad situation before the restoration,
Ulaşoğlu added: "This museum project was one of the most important dreams of our city, and we are really excited that our dreams are coming true. This museum has been designed as such an effective structure that people will always be active there."
A dream comes true
Noting that the museum will attract local and foreign tourists, Ulaşoğlu said: "We'll witness the realization of a dream when the project is completed in 2018. Our government, municipality, authorities and employees work devotedly to realize this aim."
Explaining that there are many works belonging to Tunceli in museums in nearby cities, the director added that these works would be exhibited in the Dersim City Museum in the future.