A 2,000-year-old terracotta jar from the Roman Period has been discovered by a farmer in Turkey's eastern Malatya province, reports said Monday.
The farmer in Doğanşehir district reportedly discovered the jar as he was watering his garden and immediately informed museum officials.
Teams from Malatya Museum Directorate arrived at the farm and launched excavations to take out the jar without damaging it.
The jar is expected to be put under protection after its registration process is completed.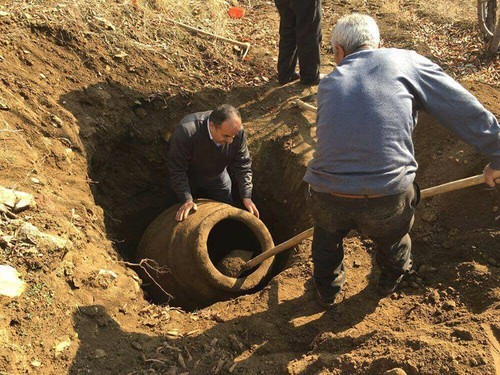 Museum director Levent İskenderoğlu told Doğan News Agency that the jar was made out of earthenware and was most likely used to store grain and foodstuff.
"The pithos [jar] is 135 centimeters in height and 92 centimeters in diameter," İskenderoğlu said, adding that it is the largest and most intact artifact of its kind discovered in the region.
Having hosted civilizations since the Bronze Ages, Malatya was called Melitene during the Roman Empire.
Archaeologists in Turkey, which has historically been a home to many civilizations, are not the only ones to frequently find significant historical artifacts throughout the country.
Construction workers, farmers and ordinary citizens come across invaluable ancient artifacts in all parts of the country.