An invaluable ancient altar from the Roman period discovered in western Turkey's Afyonkarahisar province during sewage works last year has been stolen, reports said Monday.
Authorities have issued warnings for museums and border crossings to prevent the smuggling of the artifact, HaberTürk daily reported.
The 1,700-year-old altar had been discovered in November 2017, when municipal workers were carrying out sewage works near the Organized Industrial Site and was covered afterward.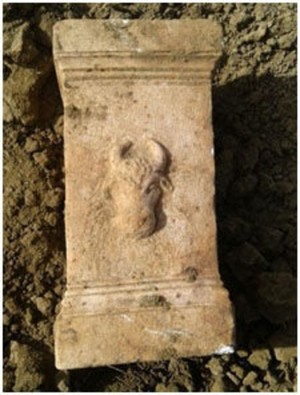 When archaeologists arrived at the site to unearth the altar, they carried out an excavation but were unable to find the artifact, which had been stolen.
The provincial cultural and tourism directorate immediately took action and warned museums and auctions regarding the incident.
Border officials have also been notified, reports said.
Turkey has been fighting for the return of stolen pieces at home and abroad. This issue is crucial to a country that is home to about 3,000 ancient cities from 42 civilizations, and whose tourism industry relies on its rich historical heritage to attract millions of foreigners each year. In September, Turkey recovered the Roman sarcophagus of Hercules from Switzerland after it had been smuggled from the ancient city of Perge in the southern Antalya province half a century ago.