Pakistan's cultural capital Lahore is known for its diverse culture, rich cuisine, social and cultural festivals, and on top of all, its spectacular old architecture, including the Badshahi Mosque and Red Fort.
Home to 11 million people, today Lahore is a vista of glitzy towers, bumper-to-bumper traffic, huge roadside restaurants, bridges, and the much-hyped Orange Line train project, but it also features spectacular mosques, temples, shrines, and towers from its Mughal and colonial past.
But in the shadow of accelerating infrastructure development, the city is losing some of its celestial architectural treasures.
According to Mian Mohammad Nadeem, a Lahore-based blogger who frequently writes on culture and heritage, almost 50 percent of the old architecture of the Walled City – meaning the old or southern Lahore sprawled over about 5 square kilometers (3 square miles) – has been replaced by shopping centers and markets.
"Wandering along the Akbari Mandi [market] or Shah Aalmi [two major business centers], an outsider can't believe that these glassy buildings and shops have replaced a bunch of Edwardian- and Victorian-style buildings over the last few decades," Nadeem told Anadolu Agency.
Scores of Victorian-style houses -- dating back to the late 19th and early 20th century -- at Mason Road, which once were gems of Lahore, have been converted into glossy multi-story buildings -- an evident result of the city's ever-growing population.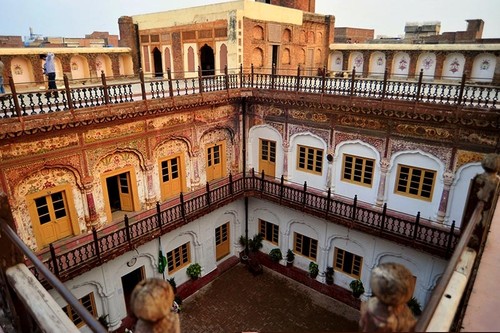 "Similarly, so-called development and new construction are steadily eating up heritage sites in Kashmiri Bazar, Lohari Gate, Mochi [cobbler] Gate, and Lakshmi Chowk," Nadeem added.
Not only local architects and heritage lovers, but UNESCO too has expressed concern over the possible damage to several heritage sites due to the Orange Line project, especially Shalamar Gardens, which date back to the Mughal era and is a protected site on UNESCO's list of world heritage sites.
Other heritage sites facing the threat of damage due to the train project include the Gulabi Bagh Gateway, Buddhu ka Awa, Chauburji, Zeb-un-Nisa's Tomb, Lakshmi building, the Supreme Court's Lahore registry, the St. Andrews Presbyterian Church, and the shrine of Baba Mauj Darya Bukhari.
Lahore's historical Chauburji, a 17th-century Mughal-era monument which once acted as a gateway to a large garden, has been overshadowed by a newly constructed bridge in connection with the train project, angering architects who believe the site's beauty could have been protected if a tunnel had been constructed instead of a bridge. The vast garden, for which the Chauburji had served as a gateway, is currently encircled by shops and multi-story buildings, apart from thousands of honking vehicles passing by every day.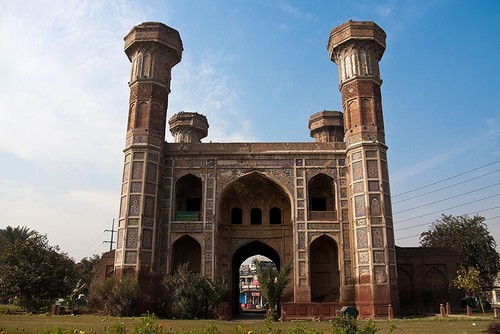 Surrounded by heaps of dirt and construction material, the monument, according to experts, is not only reeling from air and noise pollution but huge vibrations caused by ferocious drilling and other machine work also pose a threat to the existence of this monument.
Taking into account heritage lovers' concerns, last year the country's top court initially stopped the government from carrying out the much-hyped project, which many see as essential to cope with the city's transport needs, but later allowed continuation of the project so long as there is no physical damage to heritage sites located along its routes. But the threat is still lurking.
"This [Orange Line train project] is going to damage the heritage value of Lahore," professor Raheem-ul-Haq, one of the petitioners opposed to the project, told Anadolu Agency.
"The 10-km area from Zeb-un-Nisa's [eldest child of Mughal Emperor Aurangzeb Alamgir] Tomb to Shalamar Gardens [a metro train route] is full of heritage sites -- 11 listed and scores unlisted. This entire strip has already lost its aesthetic value due to this project," said Haq, who teaches public policy at Lahore's prestigious Foreman Christian College.
This problem, he argued, is also evident at Mcleod Road, which once was festooned with dozens of old buildings constructed between 1900 and 1950. "Several buildings which could be listed as historic have either been demolished or damaged to carry out the project," he maintained.
A few hundred meters away is the tomb of Zaib-un-Nisa -- another picture of apathy. Riddled with holes, the walls, and arches -- an integral part of Mughal-era buildings -- are crumbling. Once a splendid tomb, now it is surrounded by haphazard construction, including a portion of the train bridge, making it difficult for even a native to spot the site.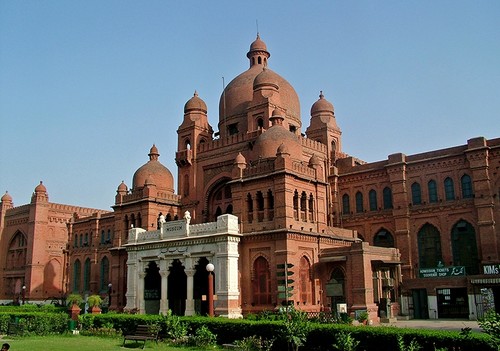 Lahore was part of the Mughal Empire from 1524 to 1752 -- an era viewed as exemplary in terms of architecture.
But today, except for a handful of elite monuments, a number of Mughal-era heritage sites present a picture of neglect.
Nowhere is this fact more evident than the mausoleum of Asif Khan, a governor of Lahore, and the commander-in-chief of the fourth Mughal emperor, Jehangir. A plaque erected at the entrance of the tomb describes how spectacularly this tomb was constructed in the 17th century on the orders of Jehangir, but even a glance at the octagonal structure with a high bulbous double tomb is enough to tell the sorry state of this site.
Blemished with countless holes, the walls, ceiling, and arches are all battered. The marble veneering is fading, and sitting in the middle is a lonely marble-stoned grave with not even a single visitor.
A vast garden around the tomb is the only thing looked after by the authorities.
Akbari Sarai or Akbar's Caravanserai, a 180-room resting spot for pilgrims, and travelers built by Shah Jahan, the fifth Mughal emperor, is little different.
Standing on the bank of the Ravi River, the tomb is a gateway to the complexes of Jehangir, his favorite wife, Empress Noor Jahan, and her brother Asif Khan. Only one out of 180 rooms is well preserved and being used as an office, while the remaining rooms -- once used as resting places for pilgrims and travelers -- are covered by dirt and dust, with crumbling walls and arches. The site was also hit by floods in the mid-1980s.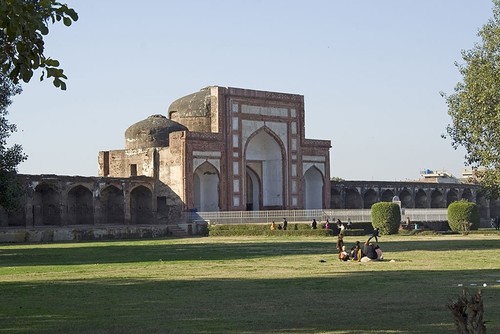 The mausoleums of Jehangir and Noor Jahan are, however, in a relatively better condition, with archeologists working to preserve the two sites.
"The Punjab government has apportioned 600 million rupees ($5.5 million) this year for repairing and conserving archeology sites in the province, including Lahore," Ijaz Ahmad, head of the Punjab Archeology Department, told Anadolu Agency.
He admitted that the city's original architecture has suffered due to several factors, including the absence of conservation laws till 1985, but said the provincial government has been trying to protect the remaining architectural treasures for the last three years.
"Till 2012, archeology was a federal subject, and unfortunately, it wasn't properly handled by the federal authorities. Can you imagine that just 90 million rupees [$800,000] was the total budget of the archeology department in 2012 for the whole Punjab and (northwestern) Khyber Paktunkhawa provinces?" he asked.
So far, he said, over 400 sites across the province, including 160 in Lahore, have been declared protected since 2015. The repair or conservation of some 50 sites in the province is ongoing underway, with a survey also underway to identify more buildings and sites with architectural value, he added.
A separate Walled City Authority has also been working to protect the old buildings in Old Lahore, Ahmad added.
Kamil Khan Mumtaz, a leading Lahore architect, sees Lahore's centuries-long planned urbanization as a key factor in the loss of the city's architectural heritage.
"Lahore today is the extension of British Lahore, which has nothing to do with the original city, which was not only the center of the Mughal or Islamic era but also Buddhist, Jain, Sikh, and Hindu architecture for centuries," Mumtaz said.
Putting the primary responsibility for the change in Lahore's social and architectural fabric on colonial rule, he said it was the British administration that started construction in line with "planned urbanization" outside the Walled City in the 19th and 20th centuries, totally changing the city's fabric.
"After partition [1947], we accelerated the process, which further damaged traditional Lahore, which once represented the pre-industrial urban form of the city," he maintained.
Therefore, he added, the end result of this planned urbanization is the disappearance of 99.9 percent of the original fabric of Lahore, and huge damage to the colonial-era architecture as well.
The biggest victim of this all, Mumtaz argued, is the common people's architecture, which has completely vanished.
"Though several monuments related to rulers are also not in very good condition, they still tell us about the life of kings and queens. But no one knows how the peasants, workers, and other common men of those times used to live. Or what their homes looked like. We've completely lost a crucial link to history."
"Go around the Walled City, and you won't find even a single hawaili [large family house] or building in its original shape. They have all been replaced by multi-story buildings, markets, and plazas," he fumed.