The ancient world-famous treasure belonging to the Lydian King Croesus will soon be displayed at a newly built museum in Turkey's Uşak province.
Consisting of 432 pieces, including some illegally excavated and smuggled artifacts, the Croesus Treasure will soon meet with visitors at the museum, reports said.
The museum is expected to be opened by the end of this month, Uşak Governor Salim Demir told Anadolu Agency. He noted that the museum, which cost around TL 16 million ($3.75 million), will host around 2,500 artifacts.
The winged seahorse brooch, which is considered to be the most valuable item in the museum and had been stolen and smuggled abroad twice, will be displayed in an exclusive area, the governor said.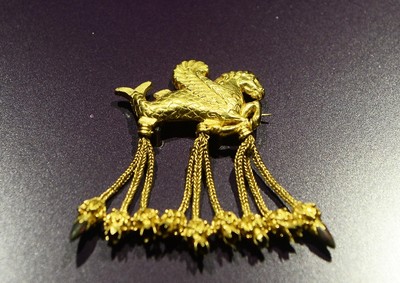 He continued by noting that the museum inventory has around 43,000 artifacts and 2,500 of these will be displayed alternatively.
Museum Director Şerif Söyler said that the new museum is almost 16 times larger than the old one, noting that it was built taking into consideration a modern museum concept and will display artifacts dating back to the Paleolithic age.
The collection of the famous treasure had been unlawfully excavated and smuggled from Toptepe, İkiztepe and Aktepe settlement mounds near Uşak's Güre village in 1965-1966 and 1968 and had been displayed at the Metropolitan Museum of Arts in New York in 1985, resulting in a legal battle between Turkey and the museum.
In 1993, the New York Museum returned the artifacts, alternatively known as the Lydian Hoard, to Turkey after admitting that they knew the items were smuggled when they purchased them.
Meanwhile, the winged seahorse brooch, known to be one of the most valuable items of the treasure, was stolen and replaced with a replica in 2005. The brooch, which was found in Germany, was returned to Turkey later on.
The Lydian king Croesus, who reigned over Lydia between 560 to 546 B.C., was known to be one of the wealthiest ancient kings and the first to introduce gold coins.