Wanderers are born with instincts for travel and discovery. Wherever they go in the world, they look for something to surprise them; something that feeds their souls as well as their bellies. Well, for wanderers around the world the place you have been looking for is right here in Turkey: Gaziantep.
Gaziantep is a hub that draws foodies, history lovers and those looking for a rich melting pot of diverse cultures. Originally just known as Antep, the city's name has an interesting history as well. "Gazi" (veteran) is a prefix that was added to its name due to its contribution to the Turkish War of Independence after World War I.
FOR FOOD LOVERS: EATING AS AN ART FORM
If you are already planning your adventure in the city, wait a minute. There is no need to discover the culture and history of the city with an empty belly.
Declared a "Creative City of Gastronomy" by UNESCO in December 2015, Gaziantep's cuisine holds a special place in the Turkish cookbook with its traditional abundance of flavor, especially spices.
Deemed the "Magnificent Trio," a typical day in Gaziantep starts with liver, beyran (a lamb-based broth with rice much like "kelle paça") and katmer (fried layers of phyllo dough wrapped around crushed pistachios drenched in buttermilk and sugar). Yes, these Antep specialties are for breakfast; and no, they are not for the weak stomached. Such unusual choices for breakfast may take some getting used to but for locals, this triple delight is part of their daily nutrition.
Also the region is famous for its incredible pistachios — the primary ingredient in many of the city's famous dishes, especially its baklava and other desserts.
Antep Baklava: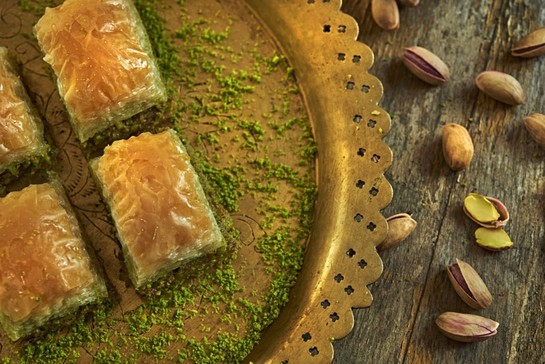 Being one of the Ottoman Empire's signature desserts, baklava is prepared in large pans, and it is quite entertaining to watch chefs while doing so. Many layers of phyllo dough separated with butter and layers of pistachios are placed in the pan. There are also some versions of baklava made from walnuts and hazelnuts, but the baklava in Antep is definitely always made with pistachios. Eating baklava in Gaziantep is an art; you first need to turn the baklava upside down so the base touches your palate and eat in one bit.
Katmer:
This is no simple dessert; it is a yummy breakfast and a sweet dream. Katmer features layered "kaymak" (cream) and pistachios, and you must warm it. Locals eat katmer for breakfast, with stores in Gaziantep solely serving katmer for breakfast, open from 6 a.m. until noon. As renowned as baklava is, katmer is a must try while in Gaziantep. It is simply delicious.
Kebabs:
Turks love kebab and even export it around the world. Many renowned dishes that you taste in Turkey, from eggplant kebabs to shish kebab, actually originate from Gaziantep and southern Turkey. "Patlıcan kebap" (eggplant kebab), "Alinazik kebap" (grilled meat over eggplant puree), "Ciğer kebap" (liver kebab) and "Simit kebap" (thick pistachio puree folded into a mix of ground lamb and bulgur) are among the most mouth-watering dishes sure to change how you look at kebab culture.
FOR AMATEUR HISTORIANS: DISCOVER ANCIENT SITES
Gaziantep province is geographically on and at a crossing point of the cultural, military and commercial roads between Syria, Anatolia, and the East and West. Apart from sites dating back to the Paleolithic period, the region has the traces of Hurri, Hittite, Persian, Greek, Roman, Byzantine and Islamic civilizations, as well. More than 30 archaeological excavations have been made in the region and Gaziantep Museum owes most of its opuses to these excavations.
Gaziantep Archaeological Museum:
Thanks to the historic richness of the region, the Gaziantep Museum of Archaeology, founded in 1944, has over 65,000 archaeological artifacts on display for visitors to trace several civilizations.
The museum is in possession of ceramic pieces dating back to the Neolithic age; different figures and statues; seals dating back to the Chalcolithic and Bronze Ages; and artifacts from the Urartu, Hittite, Persian, Roman and Byzantium periods, including jewelry, coins and glass objects - all of which bear witness to how Gaziantep has been the center of many civilizations throughout history.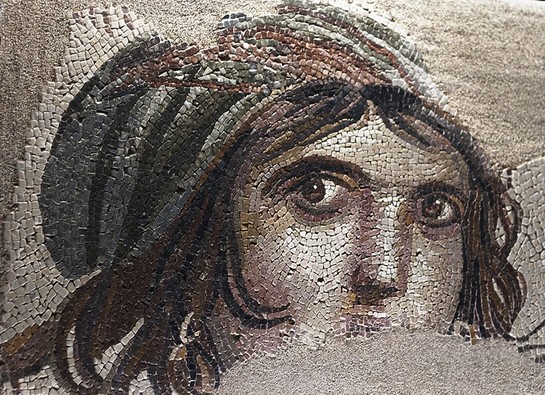 However, the real show-stopper of the museum is the mosaics of Zeugma, the biggest mosaic exhibition in the world.
Founded by Alexander the Great's generals in 300 B.C., the Ancient City of Zeugma is accepted as one of the four biggest cities of the Commagene Kingdom. Gaining huge wealth and glory under the rule the Romans, the city became one of the region's attractions due to its commercial potential originating from its geostrategic location along the Silk Road connecting Antioch to China. In A.D. 256, the city was invaded and completely destroyed by the Sassanids. Later, a huge earthquake destroyed it once again and buried the city. Due to the invasion and the earthquake, the city and its magnificent structures sadly were unable to be recovered for a long time.
In time, the riches and the art of Zeugma were forgotten and left undisturbed for centuries. However, the museum initiated the first excavations in the 1980s, and the first of the world's most beautiful ancient mosaics were unveiled. During the excavations, many villas, an amphitheater, baths and temples were also unearthed and many others are still waiting to be discovered.
Gaziantep Citadel:
Dating back 9,000 years, the Gaziantep Citadel is right in the center of the city. The citadel stands as a symbol of the classic characteristics of the city and lends a majestic and mystically historic beauty to the town. The citadel, as it is known today, was originally built during Roman rule as an observation tower, but was restored and enhanced to give it its present structure by Byzantine Emperor Justinian I in the sixth century.
FOR SHOPAHOLICS: SHOPPING IS THE BEST THERAPY
Coppersmiths' Bazaar: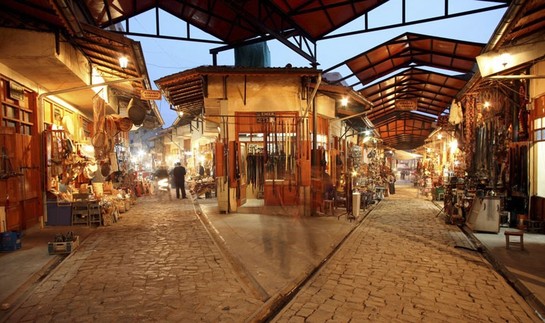 Bazaars in Gaziantep have a huge place in locals' daily life as well as travelers' visit. The most well-known bazaar is Bakırcılar Çarşısı (Coppersmiths' Bazaar) where the traditional culture of Gaziantep is still preserved and protected. The Coppersmiths' Bazaar is the best place in the town for visitors to see with its many traditional copper products and specialties. Touring in the bazaar, you can see smiths maintaining the art of coppersmithing. You can watch them while they making utensils, pots and pans, leaving you amazed by their love of the business and craft as well as their beautiful products.
Zincirli Bazaar:
Also known as the Black Steps Bazaar, Zincirli Bazaar is one of the old-style Ottoman era bazaars built in 1781 by Hüseyin Pasha of Darende. It is where you can find traditional copper pots, utensils and traditional spices and scarves. There are nearly 75 stores and five gates in the bazaar. It was restored by the General Directorate of Foundations in 2009 and is where many sellers offer fruit, vegetables and other foodstuffs and products at wholesale prices.