With its historic and culturally significant structure that draws numerous local and foreign tourists every year, Şanlıurfa's Historic Grand Bazaar offers a wide variety of shopping places, including the Coppersmiths' Market, the Junk Market and the Gümrük (Customs) Inn.
According to data from the Provincial Directorate of Culture and Tourism, the old trade centers made up of business inns and bazaars dating back to the Ottoman period are located mostly around the historic Balıklıgöl (Fish Lake) in the central district of Eyyübiye in Şanlıurfa province.
In addition to the copper, junk and jewelry markets, the bazaar is also home to many historically important trading centers, including the Kazaz (Bedesten), and is a masterful example of traditional architecture.
Along with local and foreign tourists visiting the city every year, families from nearby villages travel to the city center to buy local clothe, accessories, copper knickknacks, household items and souvenirs from the bazaar.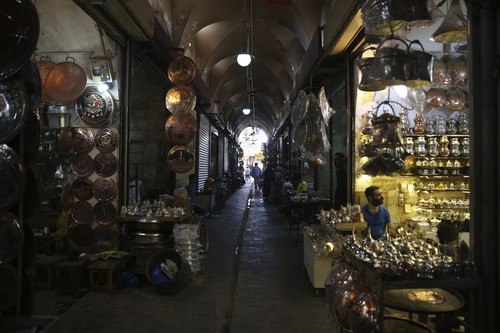 The Coppersmiths' Market in the bazaar sells a range of copper products.
Bedesten Market, built near Gümrük Inn in 1562 and known as "Bezzazistan" among locals, is among the most important venues. Featuring doors that link it to the four markets around it, Bedesten was recently restored by the Şanlıurfa Foundation for Culture, Art and Research (ŞURKAV). As the bazaar where traditional clothes and accessories are sold, Bedesten is one of the most unique bazaars in Anatolia thanks to its enduring authenticity. Historic bazaars still attract shoppers despite the increasing number of modern malls throughout the country. Grand bazaars across the country generally open at dawn and are haunts for visitors looking to cool off in the summer and to warm up in the winter while shopping.
Prayers for good and plentiful earnings
Craftsmen in the Grand Bazaar traditionally pray together for good and plentiful earnings two days a week. Sometimes, visitors also accompany the custom of these morning prayers, where ahilik culture – a kind craftsmen solidarity – is kept alive.
Eyyübiye Mayor Mehmet Ekinci told Anadolu Agency (AA) that the city is among the prominent cities of Turkey in terms of its number of grand bazaars.
Mentioning the city's hot climate, Ekinci said covered bazaars are important in the city so that people can shop without being bothered by the hot weather.
Stating that the municipality shows great sensitivity to historical regions, he said: "Şanlıurfa is a historic city. We try to reflect this aspect in the district with its bazaars, which have managed to keep authentic to date. The interest in covered bazaars doesn't decrease in the summer or winter. People feel like there is a unique atmosphere here. You can find whatever you need at bazaars. This is why tourists visit these places first. We try to protect our history and to host our visitors in the best way possible. This is the source of our cultural wealth. Travelers in Şanlıurfa always seek out our covered bazaars. Our craftsmen here open their shops with prayers two days a week. When you enter the bazaar, you feel like you've traveled back 300-500 years in the past."
Bakır Erişmiş, 50, who sells shoes in the shoemakers' market, said he has been here for almost 38 years and added that shopping in the bazaar is based on trust.
Noting they try to survive despite an ever-changing world, Erişmiş continued: "In the past, these places were more crowded; people could find everything they needed here. People were bargaining and shopping. Both sellers and customers were happy. The old days are missed, but we try to keep the traditions alive today. We run our shops based on trust. We do not need to close our shops when we go to pray. We cook and eat our lunches together. And we open our shops, praying together two times a week."
Ahmet Hastaoğlu, one of the last hand-printed headscarf makers in Şanlıurfa, sustains his slowly dying craft in his small shop in the junk market. Hastaoğlu, 89, indicated that he started working at a young age and refused to abandon his occupation, even though he is now retired. Remarking he spent most of his life in these markets, Hastaoğlu asserted that he missed the old days and the friendships.
Mehmet Çirkin, 66, who works in the Coppersmiths' Market, said he continues to do his predecessors' job despite new technology. Implying he loves the atmosphere of the historic grand bazaar and continues to work here, Çirkin added that local and foreign tourists continue to show interest in the markets.