Turkish police assert that Jacqueline Anne Sutton, a British NGO director and former journalist committed suicide at an Istanbul airport over the weekend, dismissing murder claims, though it is not clear why she missed her flight and lied about being unable to afford a new ticket. Jacky Sutton's sister, Jenny later said in a statement that the family believes the incident was a suicide.
According to an anonymous police officer on duty at Istanbul Atatürk Airport, when Jacky Sutton, 50, a veteran journalist and activist, was found hanging in an airport bathroom, the death was a suicide. Her reportedly erratic behavior at the airport has led to more questions than answers about what her motive she could have had for killing herself.
Sutton, who was the acting Iraq head of the London-based Institute for War and Peace Reporting (IWPR), an independent organization supporting local reporters in countries in conflict, was found dead after she missed her connecting flight to Irbil, Northern Iraq from London.
There have been questions about whether she might have been killed. Sutton had said in an email to her friend Amanda Whitley back in June that she was concerned for her personal safety due to the Islamic State of Iraq and al- Sham (ISIS). Her death follows the killing of Ammar al-Shahbander, her predecessor at IWPR, in a Baghdad car bombing in May.
"She hung herself on a coat hanger right behind the door of the toilet cubicle. She used the laces from her [sport] shoes to commit suicide," the police officer said describing the incident scene.
Examining photos of the toilet cubicle where she was found, a doctor experienced with cases of suicide said that it is possible to commit suicide using the hanger behind the door after questions arose about how a person could commit suicide with shoelaces in such an environment.
Referencing his previous forensic articles, he said that she could have probably put her weight on a stable object such as the water tank and bent her knees if she committed suicide. He added that he had seen similar suicide cases before.
The claim that a security camera at the airport was malfunctioning also heightened concern over the suspicious circumstances. Denying the claim, the police said that all security cameras were working and that the CCTV footage from her entrance to her last minutes in the airport alive was shown to Sutton's sister who is currently in Istanbul.
"All security cameras are in service and we showed the CCTV footage to Sutton's family members," the police officer claimed.
When asked what was in Sutton's pockets when she was found dead, the officer said that there was $2,300 and some personal belongings.
"We do not understand why she did not buy another ticket with the money she had," he said.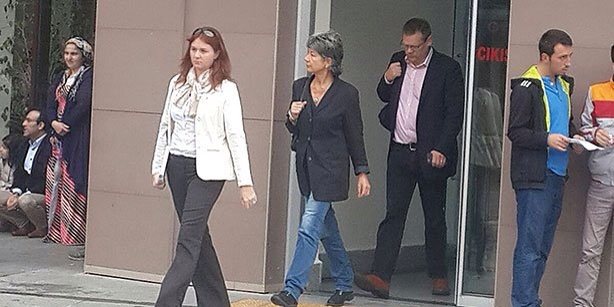 Jenny Sutton, Anne Sutton's sister (C)

In accordance with the officer's claims, Jenny Sutton, Ms Sutton's sister, later said in a statement that at this stage they believe "Jacky acted alone".
Nevertheless, the statement added that there remained "the possibility that additional information will come to light".
'Satisfied' with investigation

An investigation into the death is currently being carried out by Turkish authorities.
The statement said the family and the IWPR had carried out an "extensive review" of information provided by the officials.
Jenny Sutton said: "The family is satisfied with the investigation undertaken by the Turkish authorities."
"We were deeply sceptical about initial reports. But based on the evidence we have seen, at this stage we believe that Jacky acted alone."
Daily Sabah also talked to the supervisor of the Turkish Airlines (THY) crew to gather more information about the incident. Explaining that there is always enough time between connecting flights, the supervisor said the THY crew told her it was not their fault that she missed the flight, so she had to buy another ticket.
"Then she suddenly wept and said she had no money to afford another ticket. Our crew directed her to the THY ticket sales counter which is off the international passenger gates," he added.
What makes Sutton's death so mysterious is why she did not buy another ticket with the money in her pocket, a credit card or call the office in London to buy her a ticket for the next flight. Sutton arrived at Istanbul Atatürk Airport from London Saturday night at 9:58 p.m. local time, en route to the Northern Iraqi city of Irbil on a connecting flight scheduled for 12:15 a.m. local time. The crew confirmed the flight time, although it is not known why she missed the flight as she was seen in CCTV footage wandering through the airport long before her flight.
In a comment on Sutton's death, the executive director of the IWPR, Anthony Borden, told The Associated Press that she would have known that the IWPR would have paid for a new flight.
"Clearly, there would have been no issue [with money]. It is really inconceivable. We change tickets all the time," Borden said, calling for an open and transparent investigation in order to clear suspicions clouding the circumstances of Sutton's death.
The allegation that she cried after she missed her flight and the post-traumatic stress disorder (PTSD) she suffered before, brought up whether she had any suicidal tendencies. Working as a journalist at Vatican Radio and the BBC, she spent almost 20 years with the U.N. in war zones like Eritrea, Iraq and Afghanistan. In an online article about her career, Sutton said that she was detained as a spy while reporting from Eritrea, as a result of which she suffered PTSD in 1995. Sutton underlined that she was given Prozac and told to soldier on. She took Prozac for a month, but it had unnerving side effects so she stopped. She also struggled to avoid being killed in bombing attacks in Baghdad while working for the U.N. there.
Her friends and colleagues refuted allegations that she was suicidal in reference to Sutton's characteristic features in comments on social media. One of her colleagues said: "In last time I talked it out with #JackySutton she was preparing for a PHD about #Iraq, she's impossible kill herself, she's real human."
Charlie Winter, a researcher on jihadism, voiced similar sentiments on his Twitter account: "I don't for one second believe that #JackySutton killed herself. When we met on Monday she was engaging, driven; seemed anything but suicidal."
A clinical psychologist commenting on the Sutton's death said that if she committed a suicide the most outstanding factor would be her losses in the last month.
"As I know, she lost three of her friends in terror attacks in the past month. This may trigger her PTSD. Human psychology is dynamic, we can react to traumatic experiences or in a way that is against our personality," he said.
Explaining that PTSD develops in only 20 percent of those who are exposed to trauma, he said the conditions and her determination in suicide – if it was so – are so weird and trigger thoughts of any possible attack except PTSD and depression.
Amin Saikal, director of the Centre for Arab and Islamic Studies at the Australian National University where Sutton had been studying for a Ph.D., told Daily Sabah that her death "has become very mysterious." "I hope the autopsy result will shed more light. From our perspective, Jacky was a very valued scholar and colleague with exceptional qualities. I was never aware of her PTSD in the past, and as for possible ISIS involvement, I have no insight," he said.
The International Federation of Journalists (IFJ) has called for a thorough investigation into her death. IFJ President Jim Boumelha told Daily Sabah that they were as puzzled as anybody else about Sutton's death. "The theories being speculated about are not credible, including the ludicrous claim that she may have taken her life because she had no money to pursue her trip to Irbil. The fact that her predecessor was murdered only a few months ago points to something sinister. Jacky was a very committed journalist and it would not surprise anyone that many vested interests would not be comfortable with the work she is dedicated to. Nobody knows who they are, and this is why the IFJ and the journalists' global community are calling for an independent inquiry into this tragedy," Boumelha said.
The British Foreign Office, in response to Daily Sabah's email seeking a comment, said that it is not appropriate to comment on speculation surrounding the case.
"Our embassy staff are assisting Jacqueline Sutton's family at this difficult time, and we will remain in close contact with Turkish authorities," the statement said.