A Turkish court on Friday sentenced two Syrian men accused of human trafficking to four years in prison over the drowning of five people, including Aylan Kurdi, a 3-year-old Syrian boy. Kurdi became an iconic symbol of the plight of migrants after his tiny body was discovered last year washed ashore a Turkish beach.
Muwafaka Alabash and Asam al-Farhad were arrested following the incident in September 2015 and were sentenced following a trial at a court in Bodrum in southwestern Turkey, from where Kurdi and his family departed hoping to reach the nearby Greek islands.
The court ordered the imprisonment of the two men for four years and two months on charges of human trafficking, but acquitted them of charges of manslaughter by gross negligence.
Aylan's brother and mother blamed Abdullah Kurdi, Aylan's father, and claimed Abdullah organized the illegal journey.
The iconic image of Aylan's body lying face down on the beach and the body being carried by a gendarmerie officer sent shockwaves across the globe. An emotional global response prompted the international community to reconsider admitting more refugees from Syria, as many of them felt compelled to take deadly journeys by sea to Greece.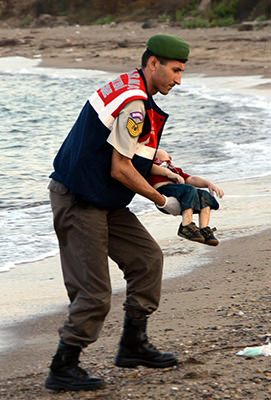 Kurdi was traveling with his late brother, as well as his mother and father, when their rubber boat capsized while en route to the Greek island of Kos on Sept. 2, 2015. His father has returned to his hometown of Kobani and buried Aylan there.
Prosecutors initially sought prison terms of up to 35 years for each of the two defendants for causing multiple deaths due to gross negligence and human trafficking, but the charges were ruled out due to lack of evidence. Six other suspects, including two Syrians and four Turkish nationals involved in human trafficking, remain at large.
Human trafficking thrives in Turkey, a transit route for migrants from Middle Eastern and Asian countries, due to its location between Europe and Asia. The war in Turkey's southern neighbor Syria has made Turkey a favorite destination for migrants, who use it as a launching pad for journeys to Europe. Most migrants prefer sea routes due to the proximity of the coast to the Greek islands, while others prefer a land route from the northwest. Turkey is home to more than 2.5 million refugees from Syria where a five-year civil war has displaced millions. Although Turkey has been praised for its exemplary hosting of refugees in camps and humanitarian aid to the displaced, it faces intense pressure by the European Union, which seeks to curb an exodus of refugees into Europe.
Turkey plans to introduce heavier sentences for trafficking. Human trafficking will be classified as an act of terror and organized crime. The move may help Turkey's crackdown against traffickers.
Sources from the Interior Ministry told Daily Sabah that a special division within the National Police Department would be established. Interior Minister Efkan Ala recently granted approval for the establishment of the new directorate, which is expected to be fully operational within a month. Sources also indicated that the new directorate would focus on stopping human trafficking. Apart from its headquarters in Ankara, the new directorate is expected to have provincial organizations in border towns in the southeast as well as in western coastal towns. A combined task force from the new directorate will include around 3,000 police officers, and the directorate is expected to work closely with the Migration Management Directorate and the Coast Guard, sources said. In 2015, Turkey intercepted 146,485 illegal migrants and arrested 3,694 human traffickers. Figures for the previous year were 58,647 and 1,460, respectively.