Turkish police Monday detained 51 people, including the former president of a state-run university in operations targeting the Gülenist Terror Organization (FETÖ). Officials said the operations targeted suspects accused of attempts to blackmail political figures with videos shot on hidden cameras. Professor Hasan İbicioğlu of Süleyman Demirel University in the western city of Isparta was among those detained in operations in Isparta and three other cities in western Turkey. Other detainees include academics and businesspeople.

Police also launched a manhunt to capture five other suspects who remain at large.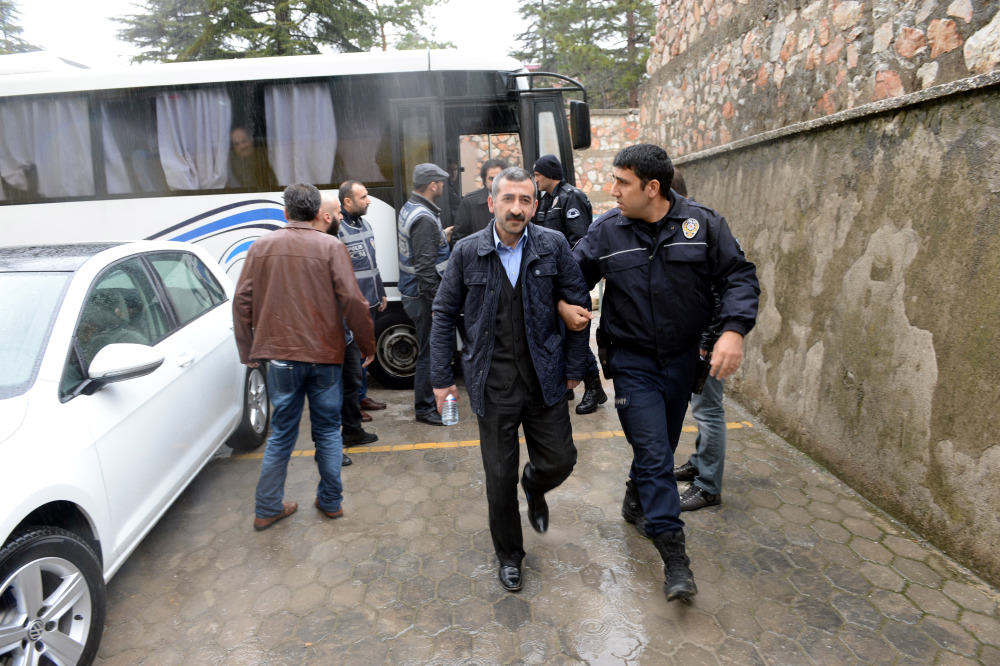 Police officers escort suspects detained in a anti-FETÖ operation in the central city of Tokat.

The operations came upon the orders of the Chief Prosecutor's Office in Isparta. Prosecutors said suspects detained in Isparta, Istanbul, Antalya, Trabzon, Uşak and Afyonkarahisar face charges of working for FETÖ. Isparta Chief Prosecutor Mustafa Kemal Çokdinç said in a statement that the operations were the culmination of a confidential inquiry over the last year. He said the inquiry was launched against suspects accused of assuming senior positions within FETÖ, financing terrorist activities, forgery in official documents, invasion of privacy and illegally obtaining personal data.

Çokdinç stated that police found hard drives containing information on FETÖ's activities as well as "handwritten notes by FETÖ leader Fethullah Gülen, containing instructions for the organization's members."

"Hidden camera footage of political figures probably taken for purposes of blackmail to make them obey the orders of FETÖ, evidence of relations between (Gülenist suspects) at Süleyman Demirel University and senior members of FETÖ, as well as child porn footage were discovered in operations," the chief prosecutor said.

The authorities recently heightened operations against Gülenists, who face charges of attempts to overthrow the government. Yesterday, 18 suspects were arrested in the central Turkish city of Tokat, suspected of aid for FETÖ and membership of the organization. Among those arrested was the head of a local business association.

Over the past two weeks, universities linked to the group as well as companies accused of financing FETÖ have been primary targets. Last week, the president of a private university and a former bureaucrat were detained in the northwestern city of Bursa in a nationwide operation regarding allegations of corruption by FETÖ members in the western city of İzmir. The detainees were accused of involvement in a scheme to sell state-owned properties to Gülenists at reduced prices.

Hundreds of people have been detained or arrested since 2014, when a massive purge of the police, judiciary and bureaucracy was launched to weed out Gülenists who have infiltrated those systems. Gülenists, who became formally known as members of FETÖ after investigation began, are accused of operating under the orders of U.S.-based retired preacher Fethullah Gülen. Gülen himself is the prime suspect in a number of cases filed against FETÖ, as the leader of the organization. Turkey seeks extradition of Gülen, who currently lives in Saylorsburg, Pennsylvania, in the United States. Gülen may be sentenced to life in prison if extradited, as running a terrorist organization carries a penalty of lifelong imprisonment. In addition to charges stemming from coup attempts, the terrorist organization faces charges of illegal wiretapping, blackmail, extortion, money laundering and staging sham trials in attempts to imprison critics of the organization by exploiting police officers, judges and prosecutors loyal to the group.