Ayşegül Başar, a female supporter of the terrorist far-left Revolutionary People's Liberation Party-Front (DHKP-C) which is responsible for a string of attacks in Turkey, including the bombing of the U.S. embassy, was detained on Monday.
Her arrest came after a video recording of her and her friends was released on the internet which shows them trying to provoke a group of people in a coffeehouses in Istanbul following the Reina nightclub attack by Daesh on early Sunday.
Başar and her friends were attempting to provoke people to take the streets and incite chaos in coffeehouses in Istanbul's Okmeydanı district, known as the bastion of DHKP-C in the city. The group were recorded in a video voicing their baseless claims that the government was behind the Daesh terrorist group's attack killing 39 innocent people and injuring 65 people others. Okmeydanı is also home to a sizable Alevi community, which is a good target for terror groups trying to provoke sectarian conflict among the society.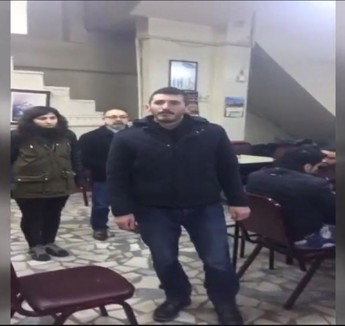 (Ayşegül Başar (L) while provoking a group of people in a coffeehouses in Istanbul)
The DHKP-C supporter Başar was detained on Monday at 06:00 a.m. as part of a counter-terror operation launched by police. Several Turkish media outlets claimed that Başar, an intern for the Cumhuriyet daily, was arrested for a speech emphasizing secularism, however, it was later revealed through the video of the group that the speech was merely a propaganda for the outlawed group. The newspaper itself is already being probed for spreading terror propaganda on behalf of the PKK and the Gülenist Terror Group (FETÖ).
Başar had previously raised eyebrows when she tweeted support for the DHKP-C terrorists Şafak Yayla and Mustafa Doğruyol, who are responsible for the brutal killing of Mehmet Selim Kiraz, an Istanbul prosecutor who was shot dead in his courthouse office in late March 2015.
Devrimci devrimcidir #teröristdevlettir #BizdeSiziSeviyoruz #SafakYayla #BahtiyarDoğruyol

— Ayşegül Başar (@gul_basar) April 1, 2015

(Revolutionist is revolutionist #terroristisstate #weloveyoutoo #SafakYayla #BahtiyarDoğruyol)
On March 31, 2015, Turkey was rocked by an unprecedented hostage crisis at a major courthouse complex in Istanbul. Mehmet Selim Kiraz, the prosecutor working on Berkin Elvan's death in Okmeydanı during 2013 Gezi protests, was taken hostage by DHKP-C terrorists and a haunting photo was later seen on social media of Kiraz with a gun to his head.
The photo was released by two members of the DHKP-C. About nine hours later, gunshots rang out inside Kiraz's office in the Çağlayan courthouse complex in Istanbul and police units in position outside of the building rushed in. Kiraz was killed by Yayla and Doğruyol, who were killed in the ensuing clash with police.
The photo of terrorists pointing a gun on slain prosecutor's head was published on Cumhuriyet's daily's front page the next day along with several other newspapers, receiving severe criticism on media ethics.
The incident raised concerns regarding the security of courthouses and the DHKP-C threat, as the terrorist group has stepped up attacks in recent years.
The DHKP-C, although less influential in Turkey than other terrorist organizations such as the PKK or Daesh, it still represents a considerable threat to the country with a string of attacks in past years. The group was behind the suicide bombing that targeted the United States Embassy in Ankara in 2013, along with attacks on the Justice Ministry and the headquarters of the ruling Justice and Development Party (AK Party) in the capital. The organization's last known attack in Istanbul was on March 3. Two female militants of DHKP-C were killed after they opened fire on a bus carrying members of riot police in Istanbul in a non-lethal attack.
The DHKP-C was founded in 1978. Purportedly advocating Marxist-Leninist ideology, it was most active during the Cold War era. The group has revived its attacks in recent years. It is listed as a terrorist organization by Turkey, the U.S. and the EU.