A five-meter-long stone arch bridge in Turkey's northeastern Gümüşhane province literally disappeared within a week. Villagers suspect that it was stolen piece by piece.
Locals of the Arslanca village near Gümüşhane were taken aback Friday when they saw that the 300-year-old bridge, connecting three highlands with the village over the Balahor Stream, disappeared. The bridge was mostly used by villagers going to highlands with their herds.
They notified the village headman Coşkun Doğan that the bridge was last seen intact Monday.
While there was rainfall on Wednesday and Thursday, there was no flooding that could have destroyed the bridge, the villagers told the headman.
Doğan and the villagers went to the bridge site and saw that there was only an abutment left. Some villagers claimed that the stream destroyed the bridge, but none of its stones were found on the banks downstream. Locals concluded that the flow of the stream is also insufficient to wash away interlacing stones even if the bridge had collapsed.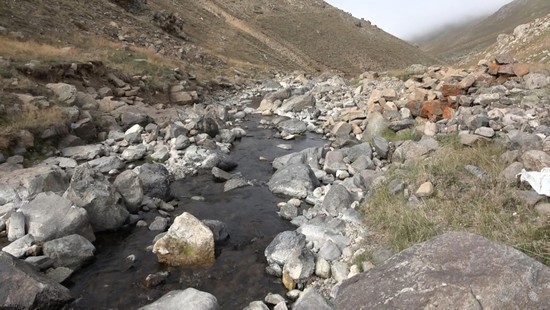 It was then the villagers decided to notify the local gendarmerie station, which launched an investigation into the incident.
Bilal Doğan, a villager, suspects treasure hunters or historical artifact smugglers might have stolen the bridge. "The bridge is 300 years old. Villagers going to the highlands were using this bridge with their animals when the stream's flow rate was high. The people tore down the bridge to look for treasures and money," he told Demirören News Agency (DHA).
Another villager, Yılmaz Akyıldız, said that their childhood memories disappeared along with the bridge.
In the Eastern Black Sea region, the mountainous terrain is divided by deep valleys and heavy rainfall continues throughout the year. The region is home to numerous historical stone bridges dating back to Byzantine, Seljuk and Ottoman periods, which have served locals for centuries.