The subway connecting Istanbul's new under-construction airport to the city's metro system will be put out to construction tender in 2016, according to minister of transportation and communication, Feridun Bilgin.
The airport will be connected with a metro system via a line starting from Gayrettepe station, Bilgin told state-run Anadolu Agency (AA) reporters on Sunday, adding that the new line with a total length of 33 km will only be a 26-minute ride.
The Ministry of Transport and Communication has already launched the project, putting out a tender for study-planning construction which was already concluded on July 27. The study-planning construction is expected to be finished at most in one year, after which the project itself is expected to put out to tender.
Bilgin said, once the Gayrettepe - third airport subway line is finished, it will be very well integrated with other lines in the Istanbul metro system, as a result of which it will be very convenient for citizens living all over Istanbul to reach the new airport.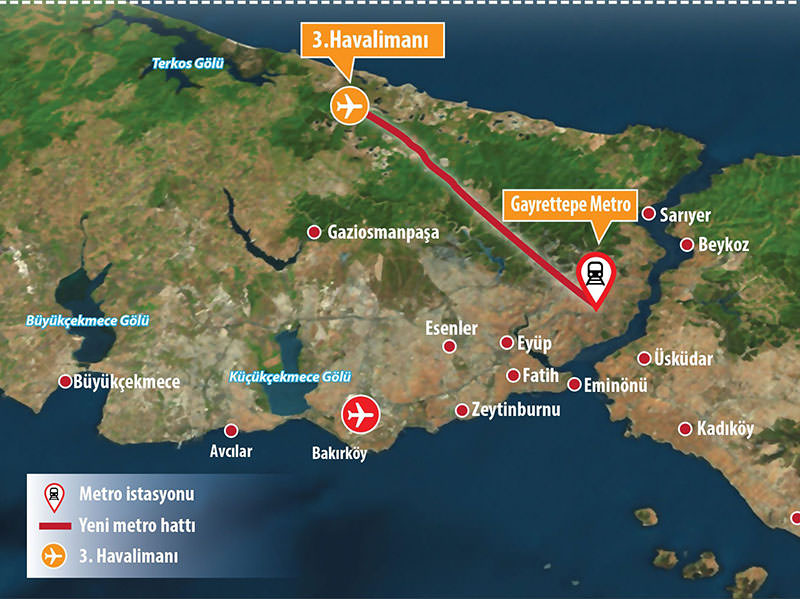 The new under-construction airport in Istanbul is expected to be operational in 2018 with one terminal and two landing fields. The construction of airport airport is expected to be completed in four phases. The first phase consists of the construction of two runways and the main terminal, but with the completion of all the four phases, the airport will include four terminals connected with a railway system, eight air traffic control towers, six runways, 16 taxiways, an airport hangar of 6.5 million square meters with a capacity of 500 airplanes, and a capacity to handle 150 million passengers annually, making it the world's largest airport.
The airport will be connected to the Istanbul metro and multi-lane highways will be built to facilitate access. The airport is expected to take on 120,000 new employees once it is opened.