A suicide bomber killed four people and injured 36, seven of them in critical condition, in Istanbul's central Istiklal street on Saturday.

The victims who were killed in the explosion have been identified as Simha Siman Demri, Yonathan Suher and Avraham Godman who are Israeli citizens and Ali Rıza Khalman who is Iranian.
The explosion was caused by a suicide bomber and claimed the lives of four people and injured 20 others, Istanbul's governor Vasip Şahin said in a statement shortly after the bombing.

Out of the total injured 24 are foreigners, said Şahin​.
Talking to reporters after visiting Şişli Etfal Hospital, Governor Şahin added that so far nine people had been discharged, while 30 others remained hospitalized.
Wounded foreigners include six Israeli, two Irish, one Icelander, one German, one Emirati and one Iranian citizen. One of the heavily wounded was reportedly a child.
The bodies of the three Israeli citizens who lost their lives in the attack were sent to Israel via plane on Sunday. Five Israeli citizens injured by the blast also flew on the same plane.
Answering reporters' questions while leaving a nearby hospital, Deputy Health Minister Ahmet Baha Öğütken confirmed that one Israeli citizen, Simha Demri, could not be saved despite all efforts.

Palestine's Ma'an News Agency reported that the six wounded recorded as Israeli citizens were Palestinians holding Israeli citizenship.

Two dual American-Israeli citizens are among the dead, Israel's Foreign Ministry and Prime Minister Benjamin Netanyahu said.

Prime Minister Ahmet Davutoğlu sent messages of condolences to Israeli Prime Minister Benjamin Netanyahu and Iranian First Vice President Es'haq Jahangiri over the deaths of their citizens.

The suicide bomber reportedly blew himself up and died at the scene, while initial reports suggest that the bomber might have accidentally detonated the bomb, since the location of the incident is relatively less significant than surrounding places.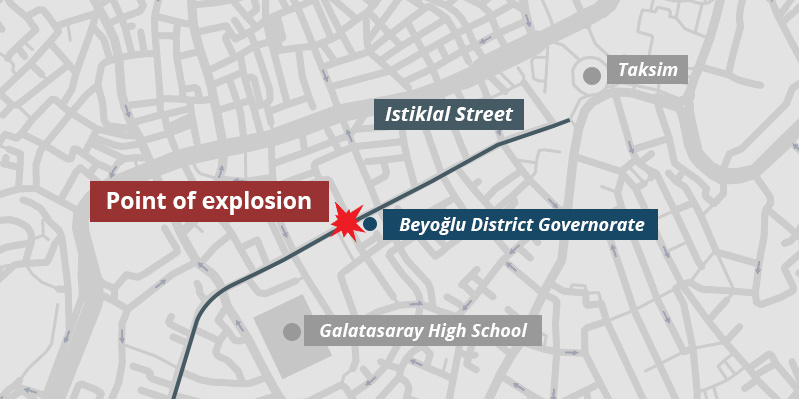 Governor Şahin said that the explosion took place near the Beyoğlu District Governorate building located on Istiklal Street. He added that rumors circulating in social media and some news outlets that other bombs were detonated in other districts of Istanbul were baseless.

The explosion took place at the Balo Street crossing near the Demirören Mall located in Istanbul's top shopping and entertainment district.

Many ambulances were dispatched to the scene, while police units cordonned-off the area.

The fact that the explosion took place at approximately 10:55 a.m. prevented additional casualties in the street which is bustling with Istanbulites and tourists on weekends.

The street, which was closed to traffic following the blast, was opened to traffic shortly before 7 p.m. local time (1700 GMT).

Prime Minister Ahmet Davutoğlu denounced the suicide bombing as "inhumane" and reiterated that Turkey would continue its struggle against "centers of terrorism".

He also extended his condolences to the families of victims and wished the injured a speedy recovery.
"On behalf of my country, nation and government, I condemn the murderers who committed this atrocious attack which directly targeted people without any discrimination, as well as all traitors who supported and instigated them to carry out such an inhuman act," Davutoğlu said.
He added that messages of condemnation pouring in from everywhere proved that the whole world was beginning to see terrorism's "real face," which targeted "all humanity and the people's right to life".
He also vowed that Turkey would continue its fight against terrorism with the same determination "until it is completely eradicated".
A recent attack carried out by the PKK terror organization with a car bomb in the central Kızılay Square of capital Ankara killed 35 civilians on March 13. Previously on Feb. 17, 29 people were killed in Ankara again by a car bomb attack by a hardliner PKK offshoot named TAK.

The Istiklal Street and its surrounding area is also the place where most foreign representations in Istanbul are located. Recently on Wednesday, March 16, the German consulate and school were shut down due to security threats.