Leaders and members of religious communities including Armenian and Greek Orthodox communities came together on Friday at a dinner for the Muslim faithful on the occasion of the month of Ramadan, during which Muslims break their fast with an iftar dinner.

The iftar, held by the Beyoğlu Municipality at the famous Taksim Square, marked the solidarity of different faith groups. The event was also attended by deputy prime minister Numan Kurtulmuş, former EU Affairs minister Volkan Bozkır, Justice and Development Party (AK Party) vice-chairman Mehmet Müezzinoğlu, prominent Armenian-Turkiah photographer Ara Güler, writer İskender Pala, Mufti of Istanbul Rahmi Yaran, Bishop Sahak Maşalyan, Assyrian Old Church Deputy Patriarch Metropolitan Yusuf Çetin, and the head of the Turkish Minority Foundations Laki Vingas.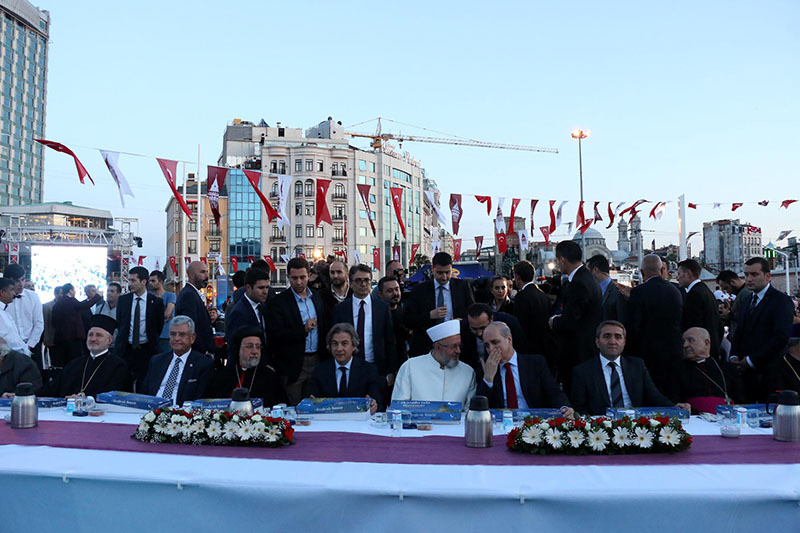 Speaking at the event on Friday evening, Deputy PM Kurtulmuş said such events were important to remind people that Ramadan meant peace and tranquility. He said, the coming together of people from various faith groups and ethnic backgrounds and their praying for peace was like "medication" in a region struck by violence. The minister underlined that various religious communities had been living in peace and sharing the same "destiny, dinner table" for centuries on the Anatolian lands.
Kurtulmuş also touched upon the recently passed law in Germany that recognizes 1915 events as "genocide". The minister invited historians to look into the events and see the truth. He said, "No one has the right to open those books once again for exploitation of political reasons. What is the truth behind 1915 events? … Our archives are open to the end."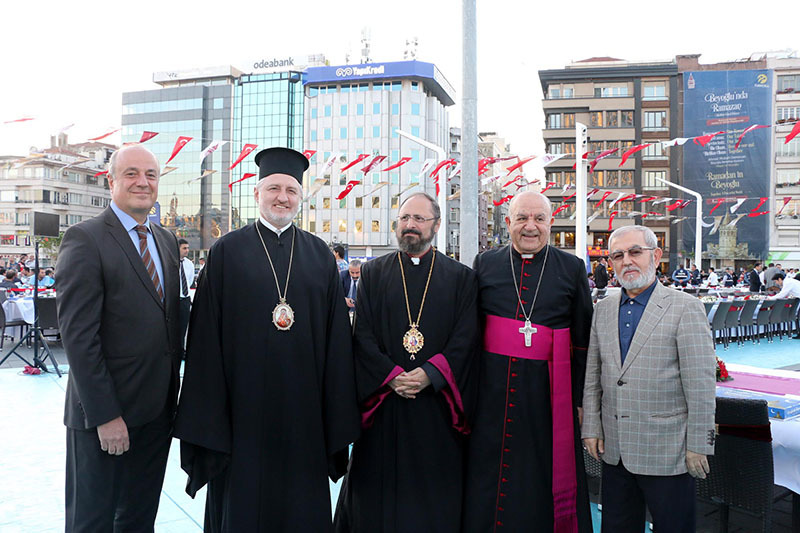 In another iftar dinner, the Turkish Jewish community, whose members were forced to leave the western city of Edirne in the 1930s during the infamous Trakya incidents, held a banquet on Thursay evening for the city's Muslims outside the Great Edirne Synagogue.
The synagogue, restored by the government and opened last year, has revived Jewish culture in the city, where only one Jewish family lives, hosting frequent visits from community members from other cities and a lavish wedding last month, the first in decades.
Hundreds of people sat around tables placed on the street in front of the synagogue, which was adorned with Turkish flags for the event and posters reading "Brotherhood On The Street." The faithful broke their fast as a Muslim cleric recited the adhan, the Muslim call to prayer, which marked the end of daily fasting, from a pulpit on the street.