The ninth meeting of the Eurasian Islamic Council, which brings together renowned scholars and faith leaders from Asia and Europe, kicked off in Istanbul yesterday with the theme of "Islam in Eurasia, Unity and Solidarity Against Religious Exploitation and a Perspective for the Future."
The summit, attended by delegations from 33 countries, focuses on the threat posed by Gülenist Terror Group (FETÖ) and Daish, two terrorist groups disguising themselves as religious movements in their campaign of violence and plots to overthrow democratic governments.
The event, hosted by Turkey's state-run religious authority, comes at a time of elevated threat by both groups in Turkey and in the world. Turkey seeks to mobilize Muslim communities to adopt a common stance against terrorism's attempt to de-fame Islamic associations claimed by the terrorist groups. FETÖ, led by U.S.-based Turkish national Fethullah Gülen, a former preacher, is accused of running a global terror cult bent on seizing power in Turkey and recruiting followers through its network of schools across the globe. It is blamed for orchestrating the July 15 coup attempt and a string of other crimes to wield power in Turkey. Like FETÖ, Daish seeks to recruit followers to its campaign of terror by evoking a warped interpretation of Islam.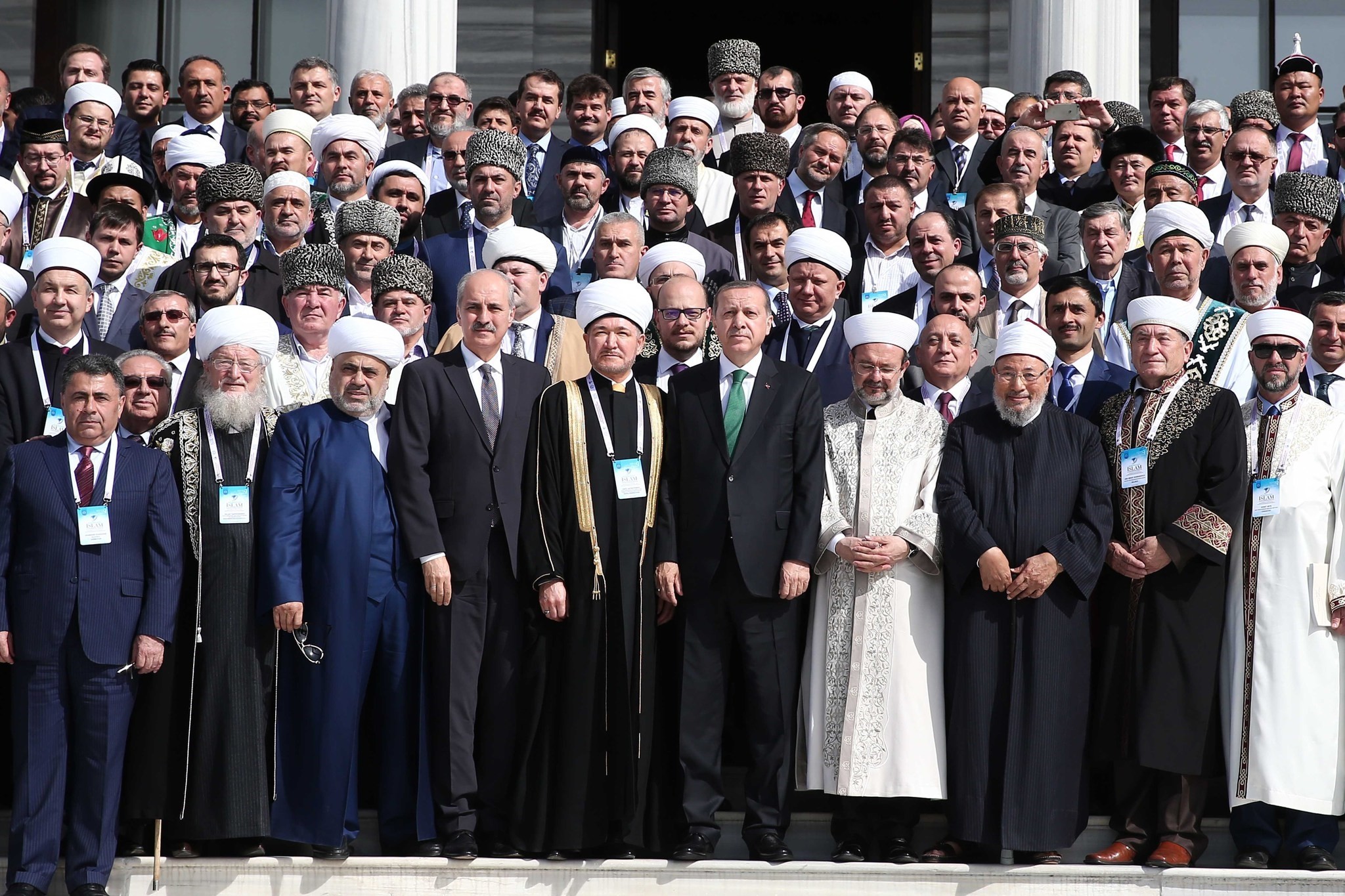 In a speech at the convention in Istanbul, Turkish President Recep Tayyip Erdoğan highlighted how FETÖ presented a threat to Muslim countries and spoke about the July 15 coup attempt, where a Gülenist junta sought to overthrow the government and assassinate him. "We wouldn't discuss July 15 in this event if it was a conventional military coup, but it is different from other attempts because the followers see themselves as a religious congregation and their leader as a so-called messiah," Erdoğan said at the summit. "We have to analyze the coup plotters thoroughly, as well as their motives, which lead to double lives and secrecy, eventually trying to kill their own people and their own country. This is not a threat exclusive to Turkey. Like al-Qaida and Daish, two groups that inflict terrorism in the Islamic world, this group is composed of people who believed that they were serving to a divine goal. FETÖ, both with its religious heresy and its devious methods to gain power with education and trade, is as serious a threat as Daish for Muslims and the entire world," Erdoğan added.
The four-day summit is being attended by 120 delegates from 33 countries from Central Asia, the Balkans and Europe. It is hosting representatives from Azerbaijan, Belarus, Bosnia-Herzegovina, Bulgaria, Estonia, Georgia, Croatia, Kazakhstan, Montenegro, Kyrgyzstan, Crimea, Kosovo, Lithuania, Macedonia, Mongolia, Moldova, Romania, Russia, Slovenia, Tajikistan, Ukraine, Greece, the Netherlands, Sweden, Britain, Austria, Italy, Germany, Belgium, France, Switzerland, Egypt and India.
The Presidency of Religious Affairs (DİB) hosts the convention, whose first session was held in 1995, with the purpose of boosting cooperation between Muslims in the Eurasia region with the use of religious education and services.
Currently the most serious threat to Turkey, FETÖ naturally dominates the agenda of the summit. The group, that seemingly started out as a religious movement promoting Islam and through those methods attracted naive believers, revealed its true colors in recent years when people loyal to the cult tried to grab power in two coup attempts in 2013 in Turkey. Investigations shed light on how the group used its sympathizers and point men in the judicial system, police, bureaucracy and military branches to imprison and kill any ne opposing their cult, with the ultimate goal of overthrowing the government.
Turkish officials aim to convey Ankara's call to participating countries to sever any ties and cooperation with the terror cult. FETÖ boasts a massive presence in Eurasia, from the ex-Soviet republics in Central Asia to Balkan countries with large Muslim populations. It employs its schools and companies, exploiting the hunger for religious education, and manipulates the close Turkish ties of the Muslims in those countries.
"FETÖ is not a religious community. It is a movement aiming to incite strife among Muslims, to divide and eradicate Muslim communities. It is a movement exploiting religion and using any means necessary to achieve its goals," Erdoğan said on the first day of the meeting. He highlighted the influence of FETÖ in Eurasian region. "This is where FETÖ made its first foray abroad and had a presence outside Turkey. It exploited the free environments in Eastern Europe as well as in Central Asia, who had just emerged after decades. At a time when Muslims in the region needed religious services and education the most, it emerged and attempted to create its own hegemony. I believe this meeting will contribute to exposing the true face of FETÖ in Eurasia and I expect your support (for the struggle against FETÖ)," Erdoğan told the audience.
Erdoğan also touched upon other terrorist groups. He said the Islamic world both suffered from terror attacks and faced a danger of divide under the pretext of terrorism as well as pressures from a rise in Islamophobia. The president noted that the rising-terror threat also justified foreign interventions in the Islamic world. He said sectarian strife was another issue and wrong and dangerous actions of sectarian movements sowed the seeds of divide and led to more bloodshed of Muslims. "Al-Qaida, Daish, Boko Haram and other groups exploit this weakness and recruit more followers," he stated. Erdoğan said Muslim unity, mutual respect, consultation and tolerance in the resolution of conflicts would eradicate terrorist groups. "We are aware that these terrorist groups are supported and created by foreign powers, but it is wrong to completely blame global powers for terrorism. Our own shortcomings, mistakes, greed and disputes also paved the way for terrorist groups," he said.
A session of the summit is entitled "Reflections of FETÖ in Eurasia as a Global Threat." The meeting will also discuss "New Media and Religious Exploitation," "Daish, a Movement of Global Threat and Violence," "Ways To Prevent Religious Exploitation and Solutions" and "Institutions and Generating Religious Knowledge in Eurasia" in the eponymous sessions.