A Turkish man inspired by the legendary 17th century Ottoman aviator Hezarfen Ahmed Çelebi will attempt to complete a sustained, unpowered flight over the Bosporus using an unprecedented method involving BASE jumping, as part of the European Outdoor Film Tour (EOFT) in Istanbul.
BASE jumper Cengiz Koçak will attempt to fly from Galata Tower in Istanbul's Karaköy district on the European side to Üsküdar's Doğancılar Square on the Asian side, 385 years after Hezarfen's successful attempt which was recorded by famous Ottoman explorer Evliya Çelebi.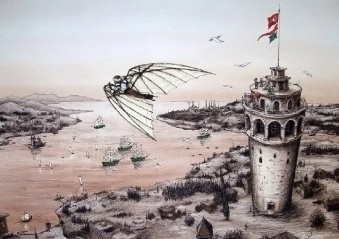 Before his main jump from Galata Tower, Koçak will make six other jumps and will be carrying out extensive work ahead of the stunt.
"There is a chance that I may go down in the Bosporus and necessary precautions will be taken regarding the matter," Koçak said, adding that he will make other attempts if he fails to complete the flight.
He noted that he will be using an unprecedented method to complete the flight, but did not give further details.
Koçak's flight follows in the footsteps of Hezarfen Çelebi who, according to Evliya Çelebi, flew from Galata Tower to Üsküdar with the help of the southwestern winds.
Upon completion of Çelebi's flight, Sultan Murad IV granted him a sack filled with gold and later sent him to Algeria in exile, claiming Çelebi was a "scary" man who was "capable of doing anything he wishes."

The Galata Tower is 35 meters (115 feet) above sea level, and the peak of its conical dome is around 62 meters (205 feet) above ground level. The Doğancılar Square in Üsküdar is roughly 12 meters above sea level. The total distance between the tower and the square is approximately 2.36 kilometers (2 miles).
This will be the first time that the EOFT will be held in a non-European Union (EU) member country.
Ten of the most famous historical landmarks and sites throughout Turkey, including the Sümela Monastery in Trabzon and Mount Ağrı in Turkey's east, will host EOFT events and adventure-seeking athletes. Turkish national team diver Şahika Ercümen will dive in the Mediterranean in the southern Kaş province, while author and journalist Ece Vahapoğlu will go trekking near the Sümela Monastery.