A private helicopter that was struck by lightning crashed into the Marmara Sea off the coast of Istanbul on Thursday afternoon, despite a valiant effort by the pilot to land it amid heavy rain. The owner of the helicopter later died in the hospital.
Two people, pilot Ismet Özgür and businessman Halil İbrahim Ünver, were quickly pulled out of the sea as the crash site was very close to the Bostancı fishing and ferry port in Maltepe district.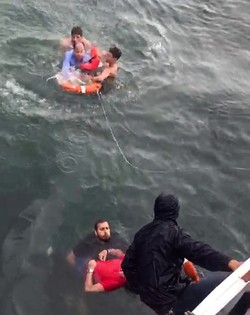 The 2007-model Bell 430 helicopter was registered to Ünver, who died after being taken to the hospital.
The pilot, Özgür, made a heroic effort to land the damaged helicopter in the sea.
"I tried to land in the sea. We crashed," he told reporters at Kartal Lütfi Kırdar Training and Research Hospital, where he is being treated in the intensive care unit for injuries sustained due to the impact of the crash and taking in water.
Özgür confirmed that the helicopter was struck by lightning before it crashed. Istanbul was being smattered by intermittent rainfall when the crash happened.
"A private helicopter crashed on [Istanbul's] Maltepe district's Bostancı coast and two people were slightly injured," Istanbul's governor's office had initially said on Twitter.
Ünver was the board chairman of the Üniver Holding A.Ş and deputy board chairman at the Turkish bus and military vehicle manufacturer Otokar, a subsidiary of Turkey's largest conglomerate Koç Holding.
Ünver had said in an interview in 2006 that he was the first helicopter pilot in Turkey to receive his license from a private course in 1996. He added that he established the company Ünver Airlines for air taxi services in Istanbul and longer routes to Bodrum and Antalya.