At least three people died after an eight-story apartment building in the Kartal district on Istanbul's Asian side collapsed on Wednesday.
Istanbul Gov. Ali Yerlikaya told reporters early Thursday that rescue teams working overnight pulled 12 people out of the rubble with injuries. Three of them were in serious condition, Yerlikaya said.
It was not immediately clear how many people were still trapped in the debris of the building on the Asian side of Istanbul in the mostly residential Kartal district.
Parliament Speaker Binali Yıldırım, Interior Minister Süleyman Soylu and numerous other officials arrived at the scene shortly after the incident.
Yıldırım confirmed two people have died and six residents have been rescued from the rubble of the eight-story building, while noting that the building next to the collapsed compound has been evacuated as part of a security precaution after experts suspected that it might have been damaged during the collapse.
Scores of Disaster and Emergency Management Presidency (AFAD) personnel, fire crews, police and emergency medical teams were on the scene in Cevizli neighborhood. Additional rescue teams were on their way from Sakarya and Bursa provinces to provide additional support.
UPDATE — 3 people rescued from the rubble of the 8-story building that collapsed in Istanbul's Kartal district; search and rescue teams continue to look for those still trapped under debris https://t.co/Y1crGswKSC pic.twitter.com/UJ0xvQ9Crz

— DAILY SABAH (@DailySabah) February 6, 2019
The apartment building had 14 flats. The local headman of Orhantepe neighborhood, Zeki Dağ, told CNN Türk that about 27 to 30 people were living in the building. He said about 15 people are believed to be trapped under the rubble, and that the textile workshop on the lower floor of the building was empty at the time of the incident.
Cevizli local headman Memiş Dikilitaş told Turkish broadcaster NTV that there was no explosion preceding the collapse, but that the building, which was very old, collapsed on its own.
A few passersby were lightly injured in the collapse.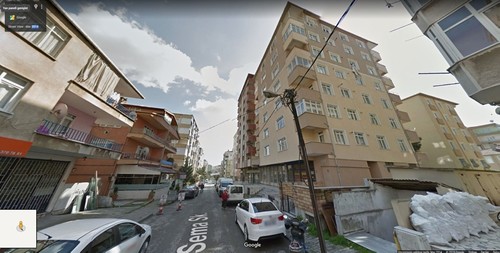 An image from Google maps shows the apartment building prior to its collapse.

Istanbul Governor Ali Yerlikaya told reporters at the site that 43 people were registered in 14 apartments at the address, but added that the top three floors of the building had been built illegally.
"It was built in 1992 as a five-story building but three more stories were added later illegally," he said.
Yerlikaya also said there was a textile workshop on the ground floor of the building that was operating without a license. He declined to comment on the number of casualties.
He said the search will continue through the night.
President Recep Tayyip Erdoğan also sent Interior Minister Süleyman Soylu and Environment and Urbanism Minister Murat Kurum to the site, Anadolu Agency reported.
A team of 86 rescue workers and 26 fire trucks are currently on site, according to the Istanbul Metropolitan Municipality.