Public primary and secondary schools in Istanbul will be closed Monday due to continued snowfall, Istanbul Governor Ali Yerlikaya announced Sunday evening.
In a written statement, Yerlikaya said the decision to call a one-day holiday from schools was based on meteorological data and adverse weather conditions caused by snow.
The governor cautioned Istanbul residents to be careful, especially during transportation, to avoid dangers caused by the continued snowfall.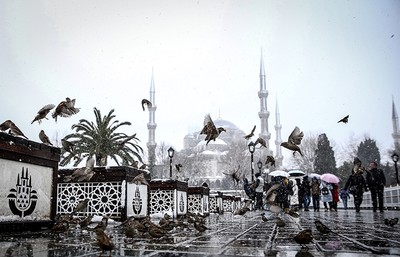 Snow blanketed Istanbul for the second day on Sunday, slowing traffic and drawing children out to the street for snowball fights.
In the Ferhatpaşa neighborhood of Ataşehir district, a group of children having a snowball fight were spotted by Demirören news agency. Upon seeing the camera, the children began chanting, "Let it be a snow day, Mr. Governor!" Those children, and likely thousands of other hopefuls across the city, have gotten their wish.
However, for some travelers in Turkey's largest city, the snow comes a headache. Adverse weather conditions have compelled Turkish Airlines to cancel 66 flights at Atatürk Airport, as airport officials work intensively to keep runways clear and to deice planes.
The snow is predicted to continue in Istanbul through Sunday night, with temperature warming to about 6 degrees Celsius (43 degrees Fahrenheit) on Monday.
School has also been called off for Monday in several districts of northwestern Çanakkale and other provinces in Thrace region.