With the Parliament's approval Friday to lift parliamentarians' immunities, some pro-PKK, terrorism-linked HDP deputies are soon to face legal action.
The bill approved by 367 votes, which means that a referendum will not be necessary, seeks to remove protection from the prosecution of 138 of Parliament's 550 deputies for one time only. The targeted lawmakers, who come from all four parties, have had a total of 667 criminal proceedings lodged against them. However, the main aim of the bill is to prosecute deputies with suspected links to terrorism, especially the PKK.

With the passing of the bill, the pro-Kurdish Peoples' Democratic Party (HDP), which is accused of siding with the PKK through remarks and actions, will come to justice.
The party has long been accused of failing to distance itself from the terrorist organization. Having gained a decent image in the eyes of the public before the June 7 elections vowing to be "the party of the whole of Turkey," the HDP's image is now in tatters.

THE PARTY'S ALLEGED SUPPORT FOR TERRORİSM
With approval ratings falling way below 10 percent, compared to the 13 percent it won in the June 7 elections, the HDP now seems to be paying the price for not standing up against PKK terror.
After the PKK unilaterally returned its armed struggle against the state in July 2015 and turned southeastern Turkey into bullet-riddled battlefields, the HDP was expected to condemn the PKK's strategy and fulfill its commitments to the Turkish nation.
However voices of dissent and backdown came quite early on.
HDP Co-Chair Selahattin Demirtaş in September 2015 questioned counterterror operations, saying: "What will you solve by bombing all provinces, just because a few youth took up arms?" He was quickly rebuffed in the media and public due to his alleged justification of youngsters carrying weapons on the streets.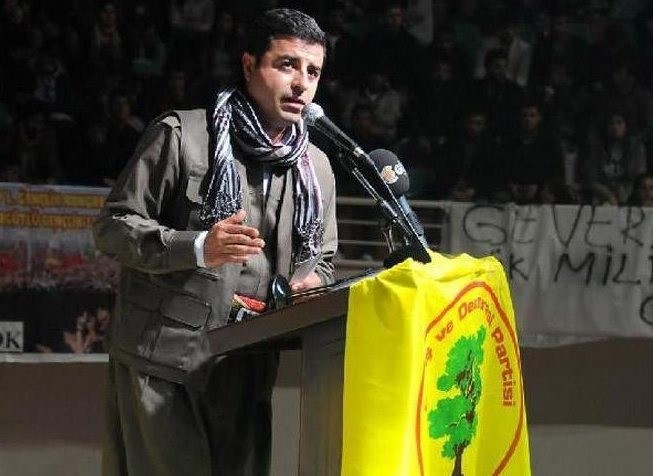 Demirtaş has many times outspokenly called for uprisings in the southeastern parts of Turkey. In an attempt to make Kurdish people stage a riot against the Turkish state in the face of terror operations against the PKK, Demirtaş attempted to call people onto the streets. Nonetheless, his calls have found little support.

Later in December 2015 at the Democratic Society Congress (DTK) HDP members had made statements supporting PKK assertions of self-autonomy, which were led by Demirtaş.

In his speech at the DTK in December, Demirtaş openly expressed support for Kurdish autonomy and self-rule in southeastern Turkey. "Hopefully the authorities will read this declaration one more time with calmness, and see that self-rule [and] autonomy offer a very significant opportunity for all of us in terms of living together," he said.

A probe was launched on the grounds of "making terrorism propaganda," "inciting a crime," and "encouraging sedition," in addition to violation of Article 302 of the Turkish Penal Code (TCK) by "disrupting the unity and territorial integrity of the state."

Then on March 3, Demirtaş vowed that if its deputies charged with aiding the PKK terror organization were stripped of parliamentary immunity then "the people" could form a new parliament.
"The Parliament is [a representation of] the will of the people, we will defend this. If our friends are arrested, if they are stripped of their deputy rights, no option will be incontestable for us. People form parliaments, not parties, and the people can form multiple parliaments if they wish to do so. If they wish to bring this issue up, then this group, [of] 59 people, will stand by its people. The people, the public would be able to do whatever they wish to do and we would not stand in the way of our people. Defending the will of parliament does not mean defending the will of the Justice and Development Party (AK Party)," he said.
His emphasis on the multiplicity of legislative organs were interpreted as the signal of 'a regional' parliament, assembly or committee structure in line with HDP's "democratic autonomy" policy and regional autonomy demands for Turkey's Kurdish-dominated southeast.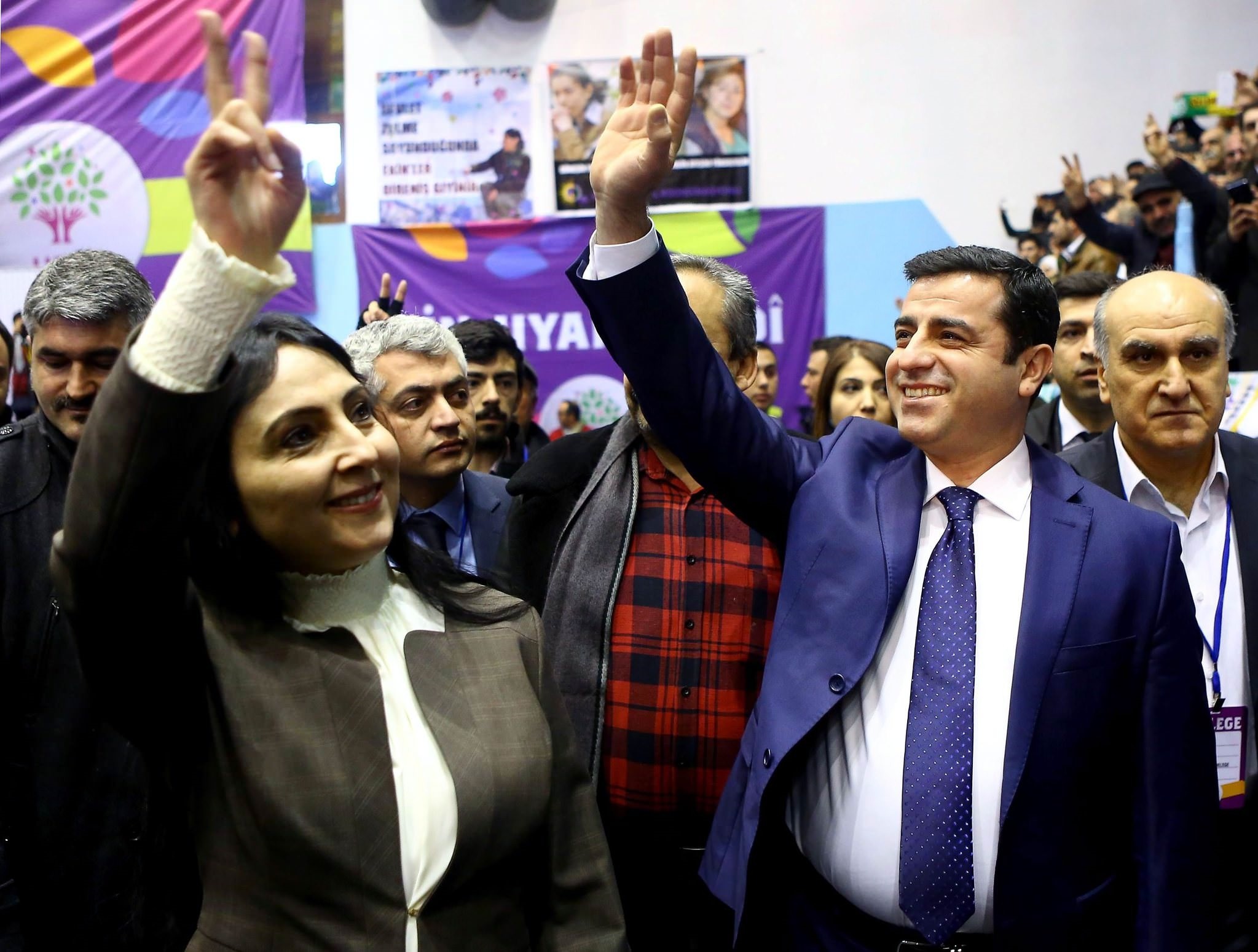 HDP's other co-chair Figen Yüksekdağ is the one that comes to Demirtaş's defense most of the time. In December 2015, "Self-rule is a right," Yüksekdağ had said defendingher co-chair, claiming that his recent statements at the DTK and the declaration issued following the congress were of "historical significance." After these statements, criminal probes against five HDP deputies, HDP co-chairs Selahattin Demirtaş and Figen Yüksekdağ, HDP deputies Selma Irmak, Sırrı Süreyya Önder and Ertuğrul Kürkçü, were opened concerning "crimes against the constitutional order."

HDP co-chair Yüksekdağ has praised the PKK terrorist organization, and described it as "a national liberation movement, and also an organization that stands for democracy and equality."
HDP İzmir deputy Ertuğrul Kürkçü is another party member that abstained from reprimanding the PKK violence. In a live broadcast on the BBC on Aug. 6, Kürkçü said that PKK terror attacks on Turkish security forces are not "a matter for condemnation."
Ankara deputy Sırrı Süreyya Önder also threatened Turkey with war on the grounds of concerns with the security and health of imprisoned PKK leader Abdullah Öcalan at a press conference in Parliament early January. "Imposing isolation on Öcalan and making his people, as well as his organization, worry about his security and health mean an invitation to war," Önder said.
HDP Hakkari deputy Abdullah Zeydan also praised the PKK and threatened the Turkish state. "The PKK has the power to drown Turkey in its spit," he asserted, adding that the Turkish state was "playing with fire." He contended that the PKK is a peaceful organization and able to exterminate Turkey.
HDP Hakkari deputy Selma Irmak, whose immunity may be lifted, attended a PYD congress late September along with HDP Şanlıurfa deputy Dilek Öcalan, who is a niece of the jailed PKK leader Abdullah Öcalan. Messages from PKK leaders were read loud during the congress as well.

HDP deputy Faysal Sarıyıldız from Şırnak is accused of supplying arms to the PKK in July 2015. He also reportedly attempted to entrap security forces in the Cizre district of Şırnak province in late January, claiming "30 people have been wounded in the basement of a building and cannot reach an ambulance." The claim turned out to be false, allegedly made up in order to entrap security members.
Ziya Çalışkan, a HDP deputy from southeastern Şanlıurfa province, attended the funeral ceremony of one of the two PKK terrorists last summer who attacked the police station in Adana.

HDP's Van deputy, Tuğba Hezer Öztürk attended a condolence ceremony at the home of Salih Necar, the terrorist who carried out the February suicide car bomb attack that killed 29 people in Ankara.
All parties except the HDP condemned Öztürk, calling her actions treason. The HDP, however, rejected to co-sign a declaration that condemned the suicide bombing and did not launch an investigation into the deputy.
A twin investigation into Öztürk was launched by Van prosecutors for promoting terrorist propaganda and praising a criminal following the visit within days of the Feb. 17 attack.
TWO HDP DEPUTIES ALLEGEDLY FLEE THE COUNTRY
Faysal Sarıyıldız from Şırnak and Tuğba Hezer Öztürk from Van, have also allegedly fled Turkey due to the possibility of their parliamentary immunities being lifted.
According to a report in Rudaw on early Thursday, the two deputies allegedly traveled to Europe not to face the judicial process due to the prepared summary of proceedings on them.
Responding to the allegations, HDP Spokesman Ayhan Bilgen said on Friday that both deputies are authorized from the party administration and they have been in France and in the U.K. for 15 days.
On his official Twitter account, Sarıyıldız said that he is currently lobbying in the U.K. "I didn't flee. I will return to Turkey after my UK visit and scheduled 10-day Italy trip," he said.
41 HDP deputies face currently charges of "openly instigating people to hatred and hostility" and "being a member of an armed terrorist organization".
As of late March, there were 43 CHP, 41 HDP, 22 AK Party and six MHP deputies facing the lifting of their parliamentary immunity. Many deputies had had multiple cases launched into them.

In the history of the Republic of Turkey, there have been 40 deputies whose legislative immunity was suspended and prosecuted. In 1994, the parliamentary immunity of seven pro-Kurdish Democracy Party (DEP) deputies was removed, due to their direct links with the PKK terror organization and "betrayal of the integrity of the state." In 1998, the parliamentary immunity of deputies from the center-right True Path Party (DYP) Sedat Bucak and Mehmet Ağar was removed, due to their involvement in corruption and criminal activities following the Susurluk scandal.