Leader of the Nationalist Movement Party (MHP), Devlet Bahçeli said in a series of tweets late Monday that the main opposition Republican People's Party (CHP) tried to "usurp Turks' right to self-determination" with their actions during the voting process of the new constitution amendment package, which will scrap the prime ministry and give presidency more executive powers, while providing a stronger separation of powers.
"CHP and the CHP-aligned chaos alliance tried to usurp the nation's right to self-determination with undreamt scenarios," the nationalist leader said in a tweet.
"Rostrum occupations in the parliament, scenes of fighting among deputies, political rhetoric that goes all the way from accusations to slander will embarrass those behind them," he added.
During the secret voting session of the fifth article, the process was interrupted by physical fights between the lawmakers of CHP and AK Party after CHP members occupied the parliament's podium area.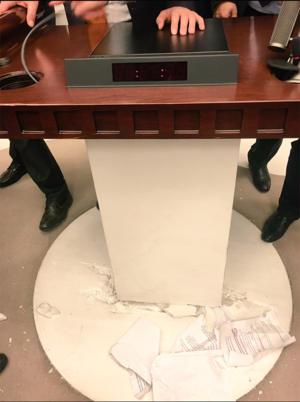 The rostrum was broken during the brawl
AK Party Ankara deputy Fatih Şahin's nose was reportedly broken by CHP deputies, while Trabzon deputy Muhammed Balta's leg was bitten by an unknown CHP deputy.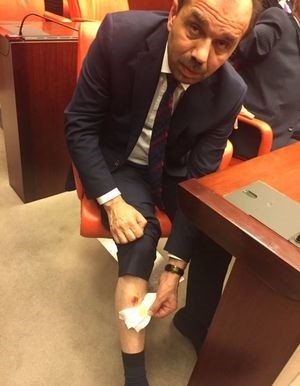 AK Party Deputy Muhammed Balta from Trabzon province after he was bitten by a CHP deputy (Twitter Photo)
In another tweet, "What is wrong with asking the Turkish nation, who made history in the war of independence, the system of government they choose?" he asked.
Implicitly criticising CHP deputy Mahmut Tanal, he said: "Phone numbers of our valuable deputies have been revealed. Lies, gossip have been spread all over social media."

Tanal had previously shared MHP deputies' numbers without their permission, calling upon nationalist voters to call the lawmakers over the legislative debates.
The Turkish parliament finished adopting all articles of the constitutional reform package on Sunday, completing the first round of voting. If the second round comes as no surprise, the threshold of 330 "Yes" votes will be passed and Turkey will go to a referendum. If the proposal gets the support of 367 lawmakers in the second round, it could pass into law without a referendum, although AK Party said it would hold a popular vote regardless.