Turkey opens the wedding season in the month of May. As an increasingly popular location for weddings, Istanbul hosts many couples not only from neighboring countries such as Iran, Azerbaijan and Russia, but also from other European countries.
The ancient city has witnessed many touching love stories throughout its long history, which together with its beautiful setting, makes it a popular venue for weddings. Imagine the romance of walking down the aisle with your love in a historic landmark whose building date is unknown.
When the wedding season opens in Turkey, the best hotels, palaces, mansions are filled with young couples who are ready to say "I do" Turkish style. It is an unforgettable experience to get married in a palace next to the Bosphorus, or in a mansion overlooking the city's bridges on one of the seven hills of this mesmerizing metropolis.
But such unforgettable romance comes at a price. The cost of getting married in Istanbul can often exceed $50,000 if you choose a palace where the Ottoman sultans once lived, or a historical building or landmark as your venue. The price may go up or down according to the quality of the service, the number of guests and the quality of the venue.
It is not unknown for couples from eastern countries such as Iran, Azerbaijan or India to spend between $200,000 and $500,000 on their wedding celebrations, as they tend to host a greater number of guests. The price for wedding ceremonies of couples from European countries is around a more modest $50,000 to $150,000 in accordance with the number of guests.
Another reason for couples to get married in Istanbul or other popular provinces in Turkey is their desire to be away from their hometown just before starting a new life with their better half. To be away from home only with your loved ones and to say "I do" in a place that is completely "terra incognita" makes you feel as if you are knocking on heaven's door.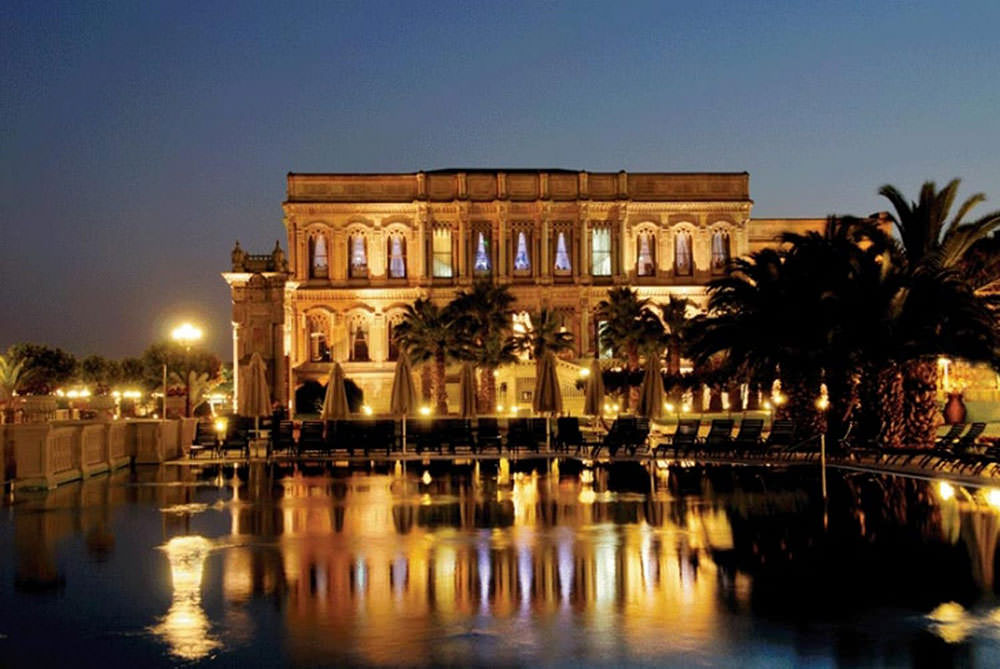 1. Çırağan Palace
Çırağan Palace right next to the Bosporus is a textbook example of the term "lavish." Located in Beşiktaş on the European side, Çırağan Palace is a dream wedding venue for both Turkish people and foreign visitors who want an unforgettable wedding ceremony. Built by Ottoman Sultan Abdulaziz in 1867, the palace is the last example of a tradition belonging to Ottoman sultans who built their own palaces instead of using those belonging to their predecessors. Construction of the palace continued until 1872, as the inner walls are wooden and the outer section is decorated with colorful marble. Today, the palace belongs to the Kempinski Hotel Chain, and it is listed as the 14th most expensive hotel on the list of the World's 15 most-expensive hotel suites compiled by "CNN Go" in 2012. The hotel is preferred as a honeymoon destination, but is also used as a wedding venue. You can host from five to 1,000 guests in a wedding ceremony at the hotel. It has a wedding planning team and all you need to do is explain what kind of fairy wedding ceremony you want to say "I do." You can either choose different ballrooms in the palace, the terrace or the garden for your wedding, but considering the sunny and warm days, the garden of Çırağan is a perfect place for ceremonies these days. The palace has more than 1,000 menu choices and a list of wedding cake. At the end of your dreamy wedding, a suit room for your honeymoon is reserved at the palace, with a bed filled with red roses, special linens, a red wedding cake, a romantic atmosphere with candles, an incredible city view and anything else you ask for.
Address: Çırağan Caddesi 32, 34349, Istanbul
Visit http://www.kempinski.com/tr/istanbul/ciragan-palace/meetings/weddings/ for more information about a wedding ceremony at the palace.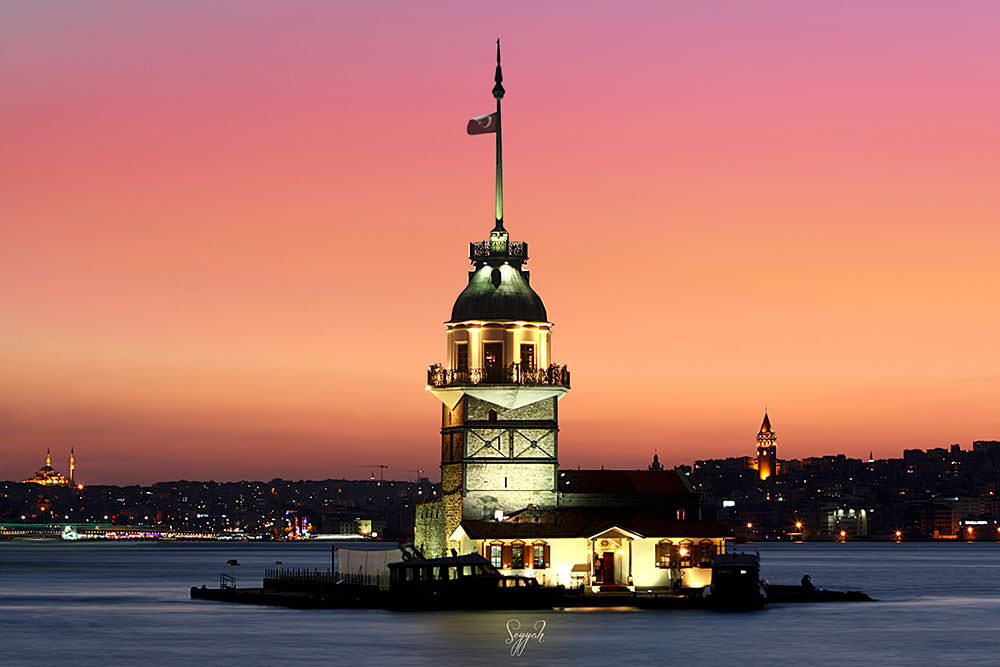 2. Maiden's Tower
Dating back to the 5th century B.C., the Maiden's Tower is a landmark of Istanbul both with its history and its panoramic city view. It is situated in the middle of the Bosphorus like a beautiful girl displaying her beauty. Standing as a landmark of Istanbul between the two sides of the Bosphorus, the mysterious history of Maiden's Tower stretches back 2,500 years. Used as a restaurant and a wedding spot today, Maiden's Tower (an English translation of Kız Kulesi) has two legends attached to it. The first tells the story of a beautiful Byzantine princess. According to legend, this princess was once quartered in this tower as soothsayers had predicted her early death by snakebite. Her father, Emperor Constantine who loved her dearly, built an extended castle (near the spot where the present tower exists), and placed her there to avert this fatal end. Eventually, the girl could no longer avoid her fate and was bitten by a snake, which had entered the castle in a basket of grapes. The second legend tells of the romance of two lovers, Hero and Leander. We are told that a castle was built upon the present site by a Byzantine Emperor for his daughter Hero. When the Emperor learnt that his daughter was in love with a commoner named Leander, he imprisoned Hero in the castle. This could not discourage Leander from crossing the Hellespont in order to see Hero. One stormy night, having no light to guide him, he drowned. Upon hearing of his death, Hero flung herself into the sea. If you want to say "I do" in such a historic tower having the legend of ancient love, the Maiden's Tower is a perfect spot. You can host up to 220 guests in the tower with a buffet of world or Ottoman cuisine. For summer weddings, you can also use the incredible terrace of the tower for ceremonies including a small number of guests. There are shuttle boats going from Üsküdar district on the Anatolian side to the tower and you can even make use of flamboyant Ottoman boats for your wedding party to be brought to the tower.
Address: Salacak Mevkii, Üsküdar, Istanbul
Visit: http://www.kizkulesi.com.tr/DugunveDavet.asp for more information on a wedding ceremony.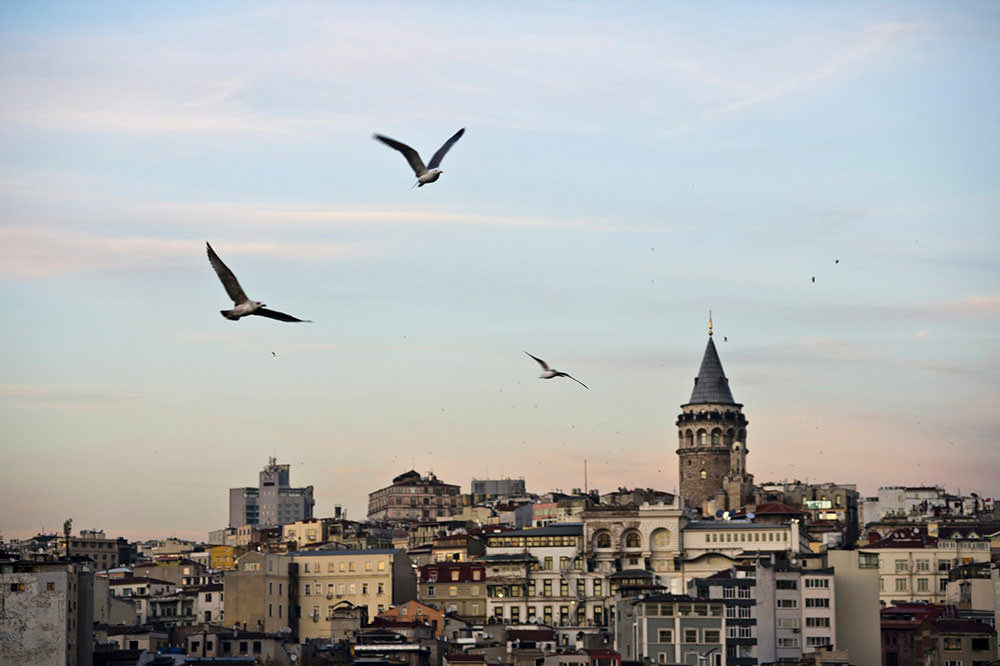 3. Galata Tower
Galata Tower (known as Christea Turris in Latin, (the tower of Christ, which once supported a spire and a cross on top), is where many young couples want to have dream wedding with a fascinating Istanbul view. With its history, the scenery and its serene atmosphere, Galata Tower is an incredible wedding venue for smaller events. On the northern shore of the Golden Horn, Galata Tower was built by the Genoese in 1348. There are several theories regarding its name. According to the Italians, the name comes from "calata" which means downward slope, as the neighborhood descends from a hill to the sea. Greeks, on the other hand, believe that the name comes from either "galaktos" meaning milk, as the area was used by shepherds in the early medieval period, or from "galat," which denotes the Celtic tribe of Galatians who were believed to have lived there during the Hellenistic period before settling in Galatia in Anatolia. The legend of the Galata Tower says that whomever you climb this historic tower with, you are destined to marry. So a tradition has developed today where many people who believe that they have found their one true love queue up to climb Galata Tower together. Originally built as a watchtower, the medieval structure stands 66.9 meters (nine stories) high. The city's tallest structure was a vantage point built to look out over the city of old Istanbul sprawling over the opposite side of the Golden Horn. An elevator goes only to the seventh floor and visitors must climb the two remaining stories. The restaurant at the top will satiate your appetite, while the 360 degree panoramic view of Istanbul's beauty will captivate you with a view of the Bosphorus, the Golden Horn, the Blue Mosque and many other monumental landmarks. A wedding event to be organized in Galata Tower costs around 65 TL per guest, and you can also arrange your own organizer for the ceremony in the tower. Galata Tower is the best place for a minimalist or small wedding along with a fascinating Istanbul view.
Address: Müeyyetzade Mahallesi Kemeraltı Caddesi No: 24 / A Karaköy, 34425 Istanbul, Türkiye, İstanbul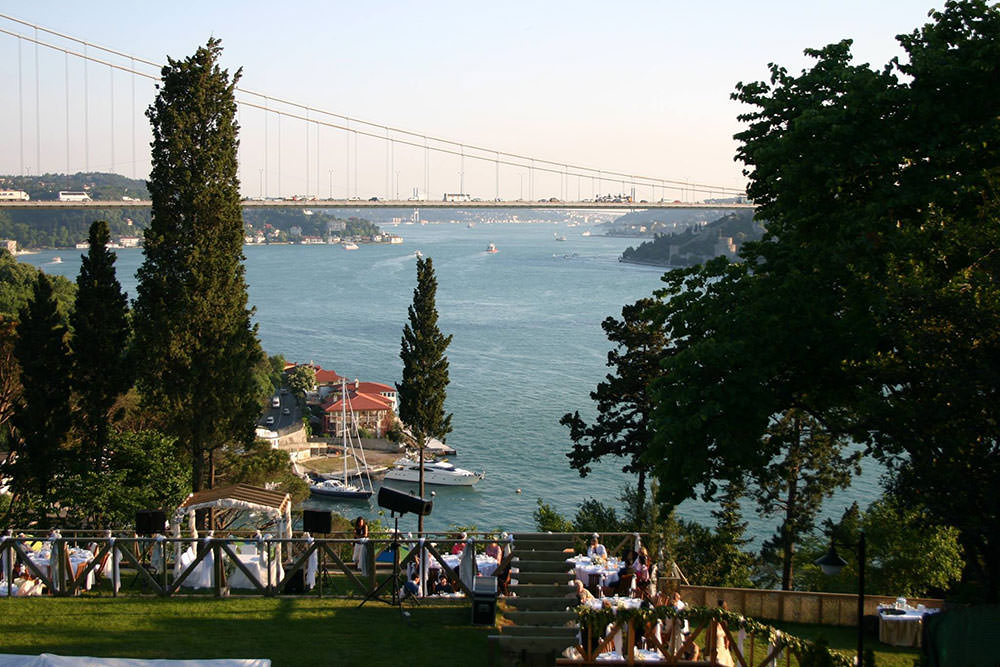 4. Mihrabat Korusu
An open area looking over a bridge view, affordable prices and fresh air… If what you are looking for your wedding ceremony is a natural atmosphere, Mihrabat Grove in Kanlıca is the best option for you considering its view and high quality of service. You can host nearly 1,000 guests in this modest grove both for your wedding ceremony and organization to celebrate your marriage with your loved ones.. On 25 hectares, the grove is covered with diverse gardens, cypresses, umbrella pines, bay laurels and Judas trees. According to rumors, the grove takes its name from the Mihrabat Mansion that burned down in a janissary rebellion that took place during the Ottoman era. The grove is one of the few places in Istanbul where you can see a view of the Fatih Sultan Mehmet Bridge over the Bosphorus. Many renowned Turkish writers and poets have mentioned the grove in their pieces since it has been known as a place where lovers find peace hand in hand. For your wedding ceremony, the professional team of the grove work to make your dreams come true. You can select three organizational packages for your wedding ceremonies, which are the gold package, emerald package, and diamond package. You can also arrange a hen party in the grove.
Address: Mihrabat Caddesi No:50 Kanlıca, Istanbul
Visit http://www.mihrabatkorusu.com/davetorganizasyon/ for more information about a wedding ceremony.