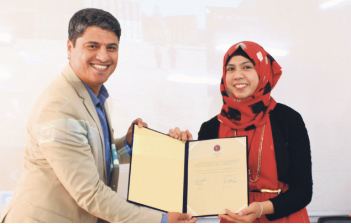 Forty-six Palestinian students who successfully completed Turkish and Ottoman language courses held by the Turkish Cooperation and Coordination Agency (TİKA) received their certificates at a ceremony held on Tuesday.
The graduation ceremony took place at the Ramallah office of TİKA Palestine and was overseen by TİKA Palestine Coordinator Bülent Korkmaz; Prime Ministry State Archives officer and expert on archives in the Ottoman language, Mustafa Celil; Turkish language instructor Muhammet Akay and other officials. The certificates were presented to 23 students who completed the Turkish course and 23 students who completed the Ottoman language course by TİKA officers and instructors.
Speaking at the graduation ceremony, Korkmaz congratulated all the students who successfully finished the courses: "I consider each one of you as a cultural ambassador for Turkey."
Korkmaz said their doors are always wide-open for Palestinian students. "We do not make a distinction between you and the demands of our own people. This year we launched elective Turkish language courses in three high schools and we will continue with them in the next academic year in 32 high schools in Palestine," he said.
Celil, who teaches the Ottoman language course, said Turkey's contributions help Palestine as a country. "Ottoman language courses are important for introducing and promoting the culture of our forbearers, the Ottoman Empire, which ruled these lands for more than 400 years, and creating an environment of solidarity among the public," he said. "Some of my students told me that their grandfathers fought for the Ottoman army in World War I. Most of them are in possession of deeds, documents and certificates in Ottoman. We were able to teach them how to read the writing on these documents."
Celil also said that they offer lessons on archive management in addition to Ottoman and Turkish.
Besim Cebir, who received his bachelor's degree in Turkey before becoming a dentist and learned the Ottoman language thanks to the TİKA language courses, said these kinds of courses are important for building a strong relationship between Turkey and Palestine. "Due to Israeli occupation, there is conflict over the lands in Palestine. Most of the deeds and certificates in this region are written in Ottoman. Hence, it is important for us to learn this language," he said. Explaining that he can read and write Ottoman thanks to the lessons he received from TİKA's language courses, Cebir said Ottoman language education should be more widespread in Palestine.
Turkish and Ottoman language courses are offered in three different cities in Palestine including Ramallah, Jerusalem and Abu Dis.
Turkey's efforts to stand in solidarity with Palestinians who have been living under Israeli occupation for decades continue in various fields.
Yesterday the government and top aid agency denied reports in media outlets linked to the controversial Gülen Movement that claimed Turkey has not fulfilled its promise of $200 million in aid it made at an international donors' conference.
Deputy Prime Minister Numan Kurtulmuş told Anadolu Agency (AA) TİKA sent about $300 million in aid over the past seven years to Gaza and that Turkey would continue to help Palestinians. Kurtulmuş said news reports aimed to sow the seeds of strife between Turkey and Palestine and admitted the aid was occasionally blocked due to the Israeli blockade of Gaza. "We will continue our solidarity with the Palestinians. And even if we are left with only one loaf of bread, we will share half of it with the Palestinians," he said.
Turkey donated $34.7 million for development aid and $24.5 million in humanitarian aid last year for Gaza where thousands were killed and tens of thousands of houses were destroyed in an Israeli offensive last summer
TİKA Chairman Serdar Çam earlier told that Turkey's aid to Gaza was on course to be delivered between 2015 and 2017 and described the news reports accusing Turkey of not delivering the aid as disinformation.