A 2,000-year old salt basin was discovered during archaeological excavations conducted in the ancient city of Kaunos in Dalyan, a town in the southwestern Turkish province of Muğla. Muğla Sıtkı Kocaman University (MSKÜ) Chancellor Mansur Harmandar told Anadolu Agency (AA) following MSKÜ's takeover of İztuzu Beach, the university's archaeological team began excavating the ancient area, whose history dates back more than 3,000 years, under the supervision of Cengiz Işık.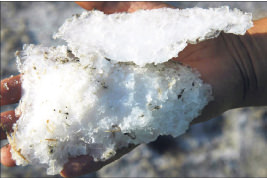 Referred to as a piece of heaven on earth for its natural beauty, Dalyan is home to a number of historical artifacts dating back to ancient times, Harmandar said. "The team discovered 48 bases where salt was produced around the İztuzu region. A project will be designed in the upcoming days to promote the area to tourists. The project will keep the historic artifacts and places alive. Our intention is to go beyond simply protecting and benefiting from the area, and develop into a tourist attraction," he said.
Harmandar said the ancient Anatolian city of Kaunos was once a large center for trade and civilization. The excavations show that its residents earned a significant living from salt production. Assistant Professor Ufuk Çörtük, the deputy head of the excavations, said the studies in Kaunos have continued since 1966 without interruption. Çörtük added that the salt bases were found in three whole and two half parcels, separated from each other by channels. He highlighted that the team detected four channels. "So far, this salt basin is the most important finding of the Kaunos excavations that were introduced to the archaeological world. These findings made us really excited," Çörtük continued.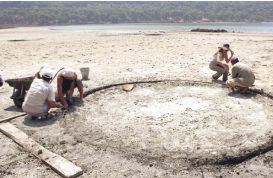 The ancient salt basin, which is made up of smaller sections and channels, was discovered on a narrow sand dune situated between İztuzu Beach and İnceburun Hill. He said salt production was an indispensable part of social and economic life 2,000 years ago in the ancient city. "Our studies show that the salt basin will take its place in the science world as one of the first archaeological findings among Anatolian civilizations whose location and architectural patterns have been defined and whose production system has been explained. Çörtük said the region will attract more interest when it is introduced to tourists. "An ancient custom regulations tablet found at the archaeological site demonstrates that Kaunos salt was an important export. Roman Emperor Hadrian took some measures on custom regulations to develop trade activities," he said. The local people of Kaunos, however, did not make concessions for salt. Çörtük said salt was a popular product in Kaunos because salt was considered good for the eyes at the time. "According to the Roman author Plinius, salt heals some skin conditions such as boils, acne and warts as well as bee and insect stings. He mentioned salt's cleaning, dissolving and burning effect. He also referred to Salt Lake and Kaunos when discussing salt production in his accounts," Çörtük said.