Initiated by the Istanbul Metropolitan Municipality (İBB), "Asırlık Tatlar ve Sanatlar Çarşısı" (The Centuries-old Tastes and Arts Bazaar), located in the historic Sultanahmet Square, consists of small stalls featuring traditional regional art forms, including wood engraving, manuscript writing, illumination and glass production, as well as well-known Ramadan desserts and traditional clothing, such as headscarves and moccasin-style shoes called "yemeni." Also, the popular shadow play and traditional Ramadan entertainment, "Karagöz and Hacivat," is presented to visitors.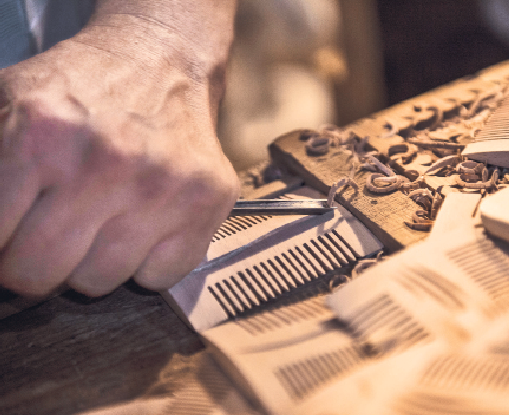 Not only international tourists but also locals breaking their fast in the square pay a visit to the bazaar every evening. Wood engraver Mustafa Toprakkale, one of the stall owners, told an Anadolu Agency (AA) reporter that he has been engaged in this craft for 43 years. Presenting his craftwork designed in his small workshop in Kahramanmaraş at the bazaar, Toprakkale said custom-made encrypted wooden chests are some of the most popular products that grab the interest of foreign tourists visiting the bazaar. Toprakkale also makes specially-designed combs made of mother-of-pearl. His chests are sold for between TL 100 ($37.63) and TL 2,400 ($903.05).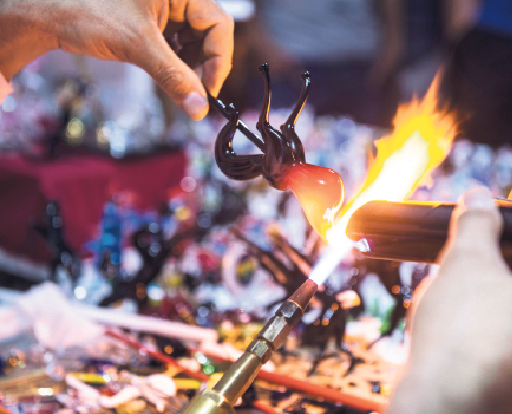 Etem Geyik, a glass producer at the bazaar, said he can make a glass product in half-an-hour. Geyik, who learned glassmaking from his father, said, "I have been producing glass for 30 years. As a master trainer, I give courses at the İBB's Lifelong Learning Center. I am very happy to see satisfaction not only in my products but also in those made by my students at the bazaar."
Specialized in designing yemenis, Orhan Çakıroğlu showcases his shoes brought from the southeastern Turkish city of Gaziantep. Çakıroğlu said the art of making yemenis nearly sank into oblivion, but interest was generated after they started designing yemenis for young people. "Yemenis have become a well-known and popular shoe," he added. Çakıroğlu said designing yemenis is an ancient art, which is transferred from father to son, and the Çakıroğlu family has earned a living from making yemenis for 128 years. "Once, yemenis were produced mostly in Kilis, Kahramanmaraş and Elazığ. My great-grandfather, grandfather and my father were all masters at designing these kinds of shoes. The tradition of yemeni production has a long history. They were first produced in Yemen, then Aleppo. Finally, it arrived in Turkey," he said. According to some rumors, the name of these shoes comes from Yemen Ekber, the first yemeni maker. Çakıroğlu said yemeni production has become an industry. "Previously, you could only see yemeni in the original colors of leather. However, now you can see them in many different colors, such as orange, brown, blue and green," he said, adding that some of them look like slippers while others are in the shape of shoes. "We even designed yemeni in the form of a boot and sent some pairs to a film set in Hollywood. I designed the boots worn by Brad Pitt in 'Troy.' We also produced yemenis for other movies like 'Harry Potter,' 'Spartacus,' '300' and 'Eragon,'" Çakıroğlu added.Another craftsman, Halil Saka, opened a weaving stall in the bazaar, where he shows traditional "peştemal" (a waistcloth worn in the Turkish baths) and "keşan" (a kind of woven fabric used in Turkey's northern regions). Saka, who brought his weaving loom from Trabzon, is one of the rare weaving masters who are still active in the Black Sea region, and he has been working on his weaving loom every day for 23 years. "Not only the Culture and Tourism Ministry but also local authorities support us. They will protect our craft as long as there are people interested in it," he said. Saka added that mostly Arab tourists show interest in his products.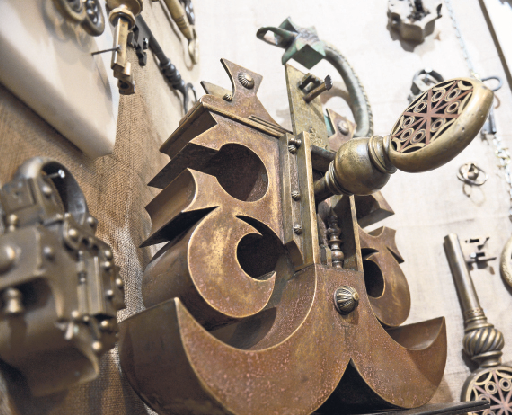 Old city keys of Istanbul are also featured at the bazaar.
Safiye Veral, who sells shadow play products at the bazaar with her husband, is surprised to see such a big crowd heading to the bazaar every evening. She said although shadow play is an old tradition people still like to watch it. She also said shadow play has always been an indispensable part of Ramadan. "You may stumble upon old Ramadan days and old memories while touring around the bazaar. 'Hacivat and Karagöz' is one of the old forms of Ramadan entertainment," she said. Hakan Uğurlu, one of the visitors who came from the western Turkish city of Uşak to Istanbul for Ramadan, said the bazaar revives old Ramadan traditions. Another visitor, Özkan Yiğit, who broke his fast with his wife at Sultanahmet Square, said they remember old Ramadan days, when they were children while visiting the bazaar. "I recalled my old memories. The bazaar might have been designed differently, but it is reminiscent of forgotten Ramadan days. I believe everyone can find something from their own life while walking there," he said. The "Centuries-old Tastes and Arts Bazaar" will remain open until the end of Eid al-Fitr in Sultanahmet Square.