Nepal's Chandra Bahadur Dangi, who held the record as the world's shortest man, died in a hospital in American Samoa, a U.S. territory in the South Pacific Ocean, on Friday. He was 75.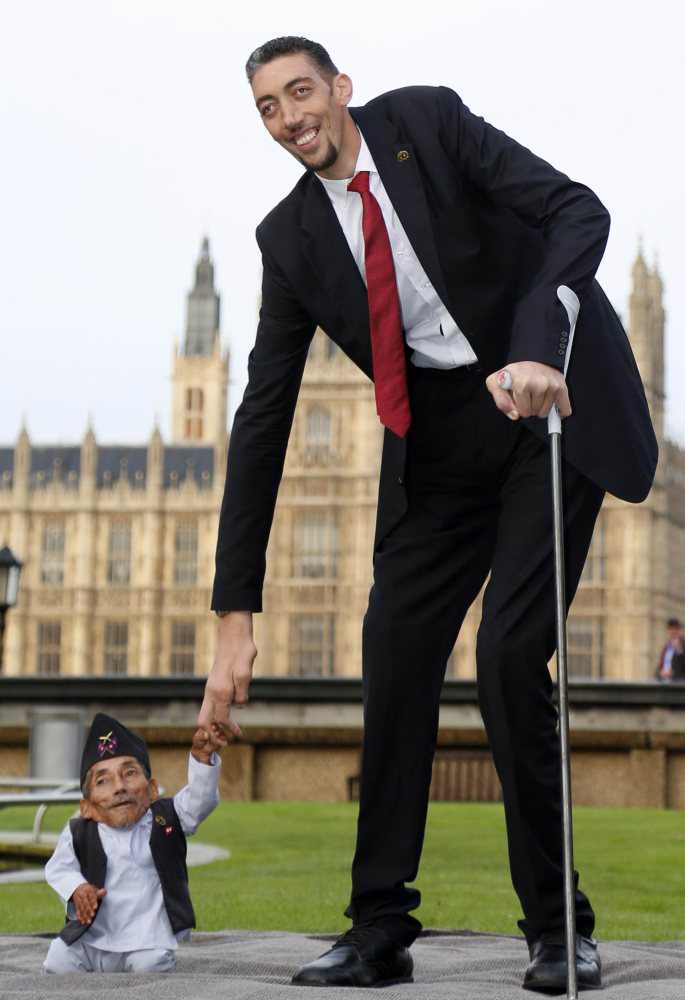 Chandra Bahadur Dangi (L) posed with the tallest man in the world, Sultan Kösen.
Dangi, who at 21.5 inches (54.6 centimeters) was declared the world's shortest man by the Guinness World Records in 2012, was on a tour of the island and was admitted to Lyndon B. Johnson Tropical Medical Center in Pago Pago six days ago.
The cause of the death was pneumonia, according to his aide Thaneshwar Guragai.
Until Guinness World Records recognized Dangi as the world's shortest man in February 2012, he was living in obscurity and had no way of knowing about his exceptionality. That February afternoon, Dangi, a laconic man who weighed 12 kilograms, was surrounded by photographers and reporters in Kathmandu, Nepal's capital, as the Guinness officials handed him the certificate.
He was also declared the shortest man ever to be measured by Guinness World Records. "I am very happy. My wish is to travel the world and see different cultures," he told reporters at the time.
Dangi, a poor, single farmer, who had never stepped out of his remote village in mid-western Nepal, then found himself in the media spotlight.
A semi-literate man, he was a guest of numerous television shows around the world.
Dangi had been in American Samoa for the past six months, gracing a circus show, his aide Guragai told Anadolu Agency.
In November last year, Dangi travelled to the U.K. to take part in a function organized by the Guinness Book of World Records to mark Guinness World Record Day.
In London, he met Sultan Kösen, a Turkish farmer who holds the world's tallest man record at 251 centimeters (8 feet, 3 inches), an experience he described as gratifying.