A rocket fell near the home of Gazan taxi driver Dahir, during an attack in 2007 by Israel. As a result of this attack, he lost both his legs and the fingers off his left hand. His wife was pregnant and was expecting twins.
Dahir, father of 3 sons, worked as a confectioner but since he cannot stand again he said he had to leave the job. Dahir spent great effort to work once again.
"There are limited opportunities to find a job, even for healthy people in Gaza, therefore, by selling my wife's gold, I bought a car in installments," Dahir said.
Dahir is now a taxi driver for a few months of the year to provide for his family,
"This job is tiring for people like me, but I had no choice," he said.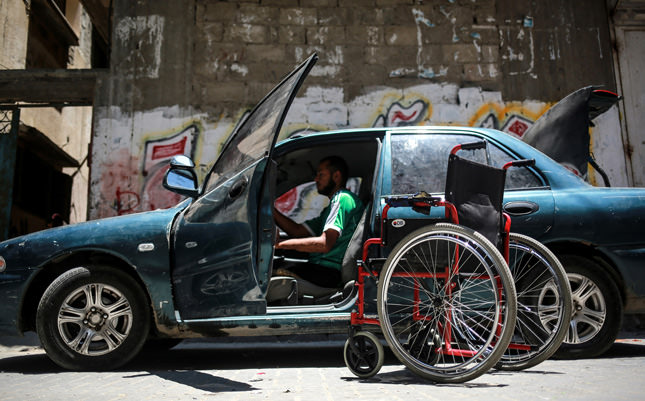 Dahir, from time to time says he loses customers because he is unable to get out of the taxi. Pointing out that his job is dangerous Dahir, "I had a system installed on the side of the steering wheel. This system allows me to use my hand to accelerate and brake."
"I would also check the brakes before going to work every day for the safety of my customers. My biggest dream is to get vehicles produced for disabled people," he said. "I want to give a life of dignity to my children; I want to get them everything they want. I will continue to work for them."
In a statement released by the World Bank on July 22, Gaza has one of the world's highest unemployment rates at 43 percent, 80 percent of the population receives social security support and 40 percent of the population lives at the poverty line.
11 thousand people were wounded in Israel's 51-day offensive in Gaza held in July 2014. 40 percent of them had been forced to continue their lives as disabled.