A major glacier in northeastern Greenland is rapidly crumbling into the Atlantic Ocean and experts warned on Thursday the breakup will likely raise global sea level by 18 inches (a half meter).
The glacier, known as Zachariae Isstrom, "entered a phase of accelerated retreat in 2012" tripling the pace of melting. It is now losing mass at a rate of five billion tons per year, said the study in the journal Science.
"The shape and dynamics of Zachariae Isstrom have changed dramatically over the last few years," said lead author Jeremie Mouginot, an assistant researcher in the Department of Earth System Science at the University of California, Irvine.
The glacier is dumping "high volumes of icebergs into the ocean, which will result in rising sea levels for decades to come," he said.
The findings are based on 40 years of satellite data from global space agencies as well as aerial surveys monitoring the shape, size and position of glacial ice over time.
Warmer ocean water is eroding the glacier from below, and increasing air temperatures are melting it from above.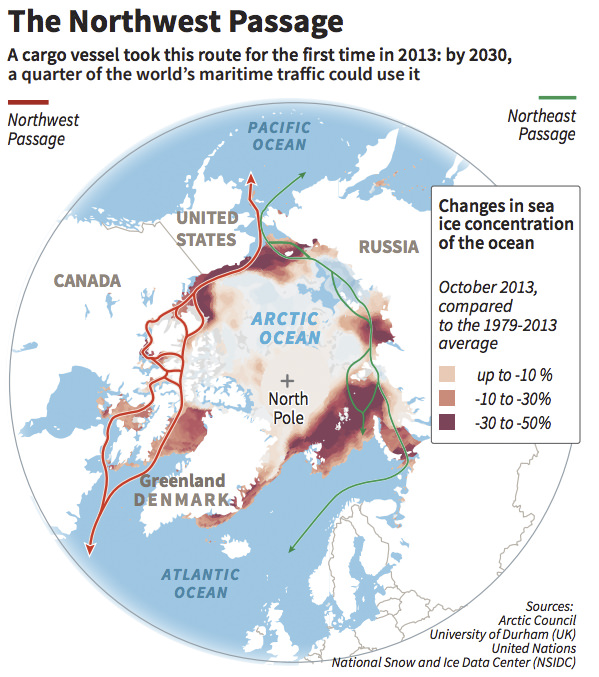 "Zachariae Isstrom is being hit from above and below," said senior author Eric Rignot, professor of earth system science at UCI.
"The top of the glacier is melting away as a result of decades of steadily increasing air temperatures, while its underside is compromised by currents carrying warmer ocean water, and the glacier is now breaking away into bits and pieces and retreating into deeper ground."
Another large glacier near Zachariae Isstrom -- known as Nioghalvfjerdsfjorden -- is also melting but not as quickly because it is protected by an inland hill.
The study said the two glaciers "make up 12 percent of the Greenland ice sheet and would boost global sea levels by more than 39 inches if they fully collapsed."